SASHA BOLDACHEV CONCERT & MASTERCLASS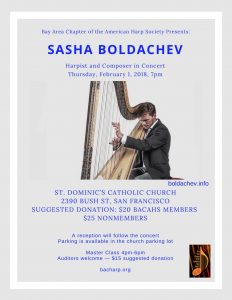 Donate here http://bacharp.org/contribute/
More information located here.
---
BACHAS wins Chapter of the Year for 2015-16 from American Harp Society: Many of you already know BACAHS was selected as Chapter of the Year for 2015-2016 by the Executive Committee of the American Harp Society! (full story here)
The Bay Area Chapter was recognized at the AHS Annual Membership Meeting in Atlanta at the National Conference. Alice Yothers, BACAHS Board President, accepted the award check in the amount of $300.00 from AHS president Ann Yeung. The money will be used for future programming for the Chapter. BACAHS' winning application will be included as an example on the AHS website.
Thank you to all the chapter members who helped to make last year so rich and vibrant.
---
A harp ensemble for BACAHS members is in the first stages of formation and slated to begin this fall. Natalie Cox and Janice Oretga will be providing leadership and repertoire suitable for both pedal and lever harps. The group will meet once each month. Several locations likely in San Francisco are being considered that can accommodate easy load in and close parking. A few lever harps may be available for borrowing. Details such as the day of the week, and nominal fee are still being worked out.
Anyone who is interested in joining please contact Natalie Cox at musicians@lmi.net or 510-778-0737. Please let us know if you have preferred day(s) of the week and if you will bring your own harp or be in need of a loaner.
---
Dates and locations are now announced for the Yvonne LaMothe Schwager Competion for Young Harpists and Winners' Recital. The Competition will be held on Sunday, May 21, 2017 at the San Francisco Conservatory of Music and the Winners' Recital will take place on Sunday, May 28, 2017 at the San Damiano Retreat in conjunction with the 2017 International Harp Festival. Madeline Jarzembak, new Principal Harp with the Santa Cruz Symphony will be the featured performer in addition to the student competition winners. Repertoire, Guidelines and Registration are available at http://bacharp.org/competitions/
New Benefit for BACAHS members: BACAHS joined the Center for New Music (C4NM) at 55 Taylor Street in San Francisco. C4NM offers rehearsal, meeting and performance space to its members at reduced rates. If you are interested in learning more about renting the space contact Susie Spiwak at bacahs@gmail.com.
---
BACAHS has been selected as Chapter of the Year for 2015-2016 by the Executive Committee of the American Harp Society!  Ann Yeung, President AHS, shared with Alice Yothers, President BACAHS:
"Congratulations – the Bay Area Chapter of the American Harp Society, Inc. has been selected as 2015-2016 Chapter of the Year! The Executive Committee was so impressed by this year's applicants and inspired by the wonderful AHS chapter activities presented. The Dallas Chapter and the KC Lyra Chapter also received Honorable Mentions this year.
"We would like to recognize the Bay Area Chapter at our Annual Membership Meeting in Atlanta at the National Conference and also to present a chapter representative with the award check…The Grand Opening & Welcome Annual Membership Meeting will be held on Thursday, June 30th from 4-5 PM in the Emory Conference Center.
"We also plan to put the BACAHS' winning application as an example in the Members Only section of the website.
"Congratulations again…
"Thank you again for your dedication and commitment to the harp and the AHS. All that you, the officers, and chapter members are doing is greatly appreciated and valued deeply." (Full story here)
Thank you to all who helped achieve this honor for our chapter and to the Executive Committee for this recognition.  If you plan to be in Atlanta for the National Conference, please do attend the Membership Meeting and support the chapter. We look forward to another great year in 2016-17. If you would like to become more involved in our dynamic organization and help contribute to its continued vitality, please drop us a note at bacahs@gmail.com.
---
Happy Spring 2014. Where has the time gone? All too recently we were in the midst of winter but thanks to wonderful harp events in the first quarter, the time from dark to light passed quickly. Did you have a chance to attend any of the great get- togethers and performances? They included the Harp Live event in conjunction with our friends in the Silicon Valley Chapter; performances by Earplay with Karen Gottlieb; Harp and voice performance by Dominique Piana and Greg Allen Freidman; Cheryl Ann Fulton playing medieval and triple harp; Laura Simpson playing opera excerpts; and even an organ performance by harpist and chapter member, Brian Swager. There are many great harp events scheduled in the next few months. If you have performances and events that you would like the community to know about, contact us at bacahs@gmail.com to insure that your information is posted on the calendar at BACHARP.org
Would you like to get more involved in your local harp chapter? The BACAHS board is looking for volunteers to help in planning and promoting events and programs that will be of interest to harpists and meet the needs of our local musicians. A kick-off meeting for the 2014-15 membership year will be scheduled within the next 6 weeks. There are already a few exciting events on the docket including a concert and master class by Alice Giles from Australia and the bi-annual Yvonne LaMothe Schwager competition. Please let us know of your interest to participate and we will contact you when the date is finalized. RSVP to Alice Yothers bac.harp@yahoo.com or Susie Spiwak bacahs@gmail.com
---
Happy Holidays! With the New Year upon us, we want to share with you upcoming events hosted by the Bay Area Chapter of the American Harp Society as well as look back at a few of the good times we have had over the past couple of months. There is much to be excited about in the harp community in 2014 that you will hear about at the Potluck dinner in January. And please, if you have performances and events coming up that you would like the community to know about, contact us at bacahs@gmail.com to insure that your information is posted on the calendar at BACHARP.org.
---
BACAHS Winter Potluck Dinner
Sunday January 12, 2014, 4:00-7:00pm at the home of Malcolm McAfee, 30 Commonwealth Avenue, San Francisco
Don't miss this annual get-together.  In addition to great food and conversation, we will be entertained by chapter member Anna Maria Mendieta with her own brand of Latin flair! www.AnnaMariaMendieta.com
This event is always a wonderful opportunity to celebrate the New Year with friends, reconnect with those you have not seen for some time, and hear fabulous harp music performed by chapter members. Please RSVP to ayothers@yahoo.com and indicate what food you plan to bring.
---
In November 2013, Diana Rowan's workshop on International Improvisation Techniques for Harp drew an enthusiastic mix of harpers and harpists, from beginner to pro, and lots in between. The workshop presented at Harps Etc. was inspired by research for Diana's PhD in Harp Composition from the National Academy of Music in Sofia, Bulgaria.
Among the many playing techniques demonstrated, workshop attendees were introduced, hands on, to Kora rhythms, Indian raga form, and the kinesthetic approach to playing, which emphasizes contour and profile over exact note patterns.
From her research findings, Diana hopes to produce a handbook for harpists wishing to incorporate such techniques into their playing arsenal. In June Diana will present her findings at the 41st National Conference of the American Harp Society in New Orleans, and in July at the 12th World Harp Congress in Sidney, Australia.
---
In December, opportunities to play the harp and schmooze abounded at Harps etc. beginning with the very well attended holiday potluck dinner and ensemble performance. The Windsong Ensemble and Wednesday Morning Harp Circle performed traditional and international holiday music, including Latin American carols arranged by Alfredo Rolando Ortiz. Throughout the evening, solo harpists entertained as well. Highlights included a jazz arrangement of Silent Night and a beautiful rendition of a Sarabande by Handel performed by chapter member Helen Vajk.
A few days later, the Windsong Ensemble played for the Walnut Creek Education Foundation benefit at the Sports Basement.  During the event the store donated 10% of all purchases to the Foundation, which helps to keep music and the Arts in the local schools.  The Foundation provides funds to pay the music and art instructors.
---
In memorium: Anne Adams
Sadly, the chapter received an e-mail from Patty Adams Harris stating:
"I wanted you Bay Area harpists to know that my mom Anne Adams died in early December after a long illness.  She loved the harp, the American Harp Society, her harpist friends and former students.  What a wonderful career she had with the harp." An obituary can be found at http://www.musicstand.me/news/6192.
---
In the spirit of the New Year, we want to thank those people who have been instrumental in making the chapter vital including our former Board President, Dominique Piana; the current board: Alice Yothers, Susie Spiwak, Melinda Chinn, Henry Heines, Mitch Landy and Erica Messer. In addition, very special thanks go to our web guru, Jim Ward; and our partners and advisors, Jessica Siegel, Karen Gottlieb, Doug Rioth and Teri Vo.
The Bay Area Chapter of the American Harp society serves to meet the need to share information, promote and foster an appreciation of the harp as a musical instrument in the Bay Area, and further harp education at all levels. Your support enables continued sponsorship of harp programs and master classes.  If you have not done so already, please join or renew your membership in the Bay Area Chapter of the American Harp Society.  Visit BACHARP.org/membership