HARPS FOR SALE
---
Stoney End Lorraine 29-string with full Loveland levers in cherry with custom artwork on the sounding board.
This was my mother's first lever harp when she was learning to play and I bought it from her when she moved on to a larger harp. It is a great beginner harp with a lovely sound.
I haven't had time to play in recent years and am about to move cross-country so I think it is time to find this lovely lady a new and loving home.
Comes with a padded carrying bag, tuning key and a removable matching cherry base. There are a couple of small cosmetic dings that do not affect the tone and are only visible close-up.
Contact Cherry Summers at 973-219-5149 or cherry.summers@gmail.com.
---
Beautiful MusicMakers 31-string Gothic, built ca. 1996. Owner went on to pedal harp. Has lived in a climate-controlled room all its life. Full Loveland levers, dolly, padded transport cover. $1,300. Please contact Bev Colgan at bev@harpandvibes.com or 775-359-2622.
---
Dusty Strings 36-string folk harp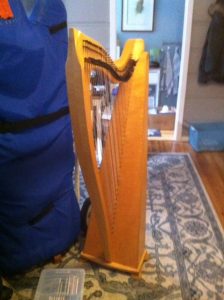 Maple, in impeccable condition. Purchased new in 1999, one owner, lovingly cared for. Beautiful tone that carries well, even outdoors. Includes burgundy carrying case, carved wooden tuning wrench, and almost a full set of extra strings. Sorry to part with this special instrument, but moving across the country. $4000.00
A new version of this harp can be seen and heard here:
http://manufacturing.dustystrings.com/harps/browse-models/fh36h
Contact Emily Laurance at emily.laurance@gmail.com or 919.933.0698 (6/17)
---
For SALE $5,000 ~ SWAN Lever harp by Thormalen
36 concert gut strings with some wound metal strings in the bass. Coffered back, beautiful exotic maple wood, full Camac levers; tuning key and padded case. It's Thormalen's premium model.
Read more about this harp at: http://www.thorharp.com/pages/models.htm
See picture of the Cordura padded traveling case at: http://www.thorharp.com/pages/cases.htm
Contact Multicultural Music Fellowship at:
Email: multiculturalmusicfellowship@gmail.com; 510-548-3326
---
Camac Athena EX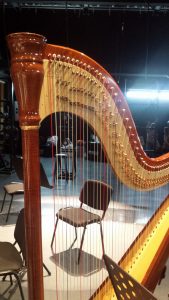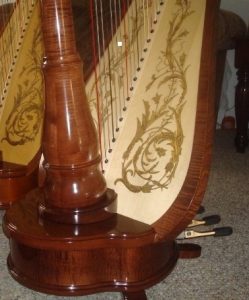 47 strings, concertgrand, extended soundboard.
New in 2009 and used until 2012, like new condition, beautiful big and warm sound, brilliant and shinning top. Mellow and strong midrange and powerfull bases. Small cosmetic blemishes that doesn't affect the sound at all. Excellent for the orchestra and solo concerts. Light weight, only 35kg. It comes with the three-set padded cover and dust cover included.
Located in San Diego—National City California. You can try it out if you like.
I hate to sell it but I will continue living in Europe and I look for someone to love her as much as I did. Price: $13,500. Contact: ivngmez@hotmail.com (5/17)
---
Salvi Daphne 40. Walnut
Bought new in 1989, serial #1215. One owner, not played for several years. Comes with a cover, cart, and lots of strings. $10,000 obo. Contact Michael Shahani, email: michael@shahani.com, Phone Number: 925-323-6833 (2/17)
---
Stoney End Eve 22
Looks like it has rarely if ever been played. Decorated soundboard, comes with padded case and extra strings. Pictures available. $1200 obo. Contact Michael Shahani, email: michael@shahani.com, Phone Number: 925-323-6833 (2/17)
---
Salvi Diana, Walnut
Serial number 3254. Built 1980 (sounding board repair in 1990s by Lyon Healy) The harp is in very good condition with no mechanical or structural problems. It has just had a new set of Bow Brand strings and a regulation. It comes with a fabric cover. There is a very small movement in the sounding board—It is normal and not a problem. The harp has a large amount of space in the upper octaves for the right hand making it comfortable to play. A very fine sounding harp, even and with a big warm sound throughout. A very fine sounding Salvi Diana. Fair Market Value as is: $18,000 or best offer
Contact info of owner: Donna Youngblood
young_at_harp@sbcglobal.net, hm 530-221-1827, cell 530-355-4111 (11/16)
---
Lyon & Healy Concert Grand—Style 30, Black
Serial number 10516, 47 Strings, Built c. 1985.
The harp is ready to go as is. It has just a set of new Bow Brand Strings as well as a regulation. The harp comes with a light beige fabric cover. It has been played very little for the past 20 years or more, so there is little wear on the instrument. the harp is in excellent condition structurally and mechanically. It is very fine sounding instrument with a well developed warm & big sound. It is even throughout and rings out beautifully.
There is also a new heavy duty wooden trunk and adjustable bench for sale too. Contact Christine Bullen for a full appraisal and more info.
Fair market value of harp as is: $16,800 or Best Offer.
Contact info: Chanticleer, ℅ Christine Bullin
cbullin@chanticleer.org, 415-252-8589 (11/16)
---
Gorgeous Salvi Daphne 47 EX for sale!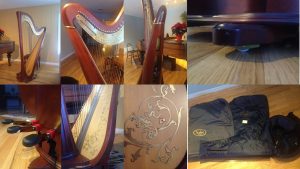 Bought in 2006, only one owner, near perfect condition!  A harp for students and professionals, this Salvi Daphne 47 Ex produces full, rich and even tone, and this particular harp features beautiful hand painted gold-leafed flowers along the edge of soundboard. We purchased this harp for home study for 4 years and up until now has been stored in my teacher's home and played occasionally when tuned. Finished in Mahogany. Price $18,000 USD
Salvi 3-piece travel covers, bench, and travel cart also available.
Please contact Jasmine Low at jasmine.m.low@gmail.com (10/16)
---
Thormahlen Swan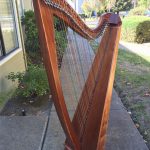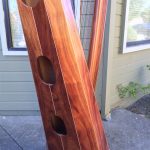 36-string, koa, with Camac levers, perfect condition, asking $6000. Contact Mitch Landy. Email: mitchld@sbcglobal.net, Phone Number: 510-758-0959. (8/16)
---
Lyon & Healy Silhouette Electric Harp
12 yrs. old (one of the 1st made); Nautical Blue; played only three times. Comes w/gig bag, accessories, and a small Fender amp. Health forces sale. Asking $3,200.00. Call Kathy @ 408-541-0764. Please leave message if no answer. (8/16)
---
Lyon & Healy 85P
Natural Finish. Purchased new from L & H in 2007, excellent condition. 40 strings. $7500. Includes original L&H black cover, tuner, white organza cover. Serial No 52725. Buyer picks up or pays for shipping. Contact Alexandra aalexandraboyer@yahoo.com, 858-361-5068. (8/16)
---
Lyon & Healy Style 22
Gold #2400 Concert Harp made @ 1922. One owner since 1930. Perfect for a non-professional harpist or someone who wants a gold harp at an affordable price. Sounding board replaced in 1970 by L&H in Los Angeles. Appraised by Karen Gottlieb in 2013. Asking price: $15,000 OBO. Includes summer & winter covers, padded chair and music stand with matching wooden lyre symbol. Photos available upon request. Contact Lita Clapper at 510 276-4094 or Litterlita@hotmail.com (7/16)
---
Two Lyon & Healy Concert Grand Harps
Natural 23 Serial 5829 $18,600
Located in Brookline, MA. Can Ship.
Exceptional instruments. Regulated by certified L&H technician.
Email for photos and more info. (5/16)
---
Wurlitzer Grand Pedal Harp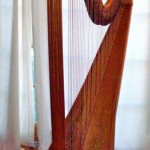 Gold, Style GG, #1466 with extended sounding board, built in the 1930s. Lush, warm, rich sound.  The harp has all original parts.  It is strung with lighter gauge strings as originally intended.  It is a perfect pedal harp for someone who wants an easier & lighter string tension on a full size pedal harp with a big sound.  Pads and felts just done and the harp has been checked by a harp technician and is okay to go as is. A collector's item ready to play and enjoy!  $14,200.00 or best offer.  A custom made, completely padded 4 Seasons Harp Cover is available for $200.  Contact Cheryl Ann Fulton, 510-601-8383, harpnhorse@sonic.net (4/16)
---
Lyon & Healy Style 17 Gold Harp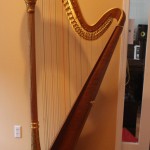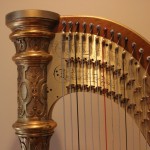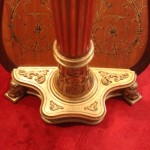 Serial number 2214, built 1920. The harp was rebuilt in 1997 with a new neck, new sounding board, re-riveting (and refurbishing) of mechanism and the gold work has also been refurbished. The harp is structurally and mechanically in excellent shape and the body & base of all birds-eye maple. The harp shows beautifully. It has really wonderful old-world warm, rich sound, esp. in the middle & lower registers. The top octaves sound lovely, ring out beautifully and there is a lot of space for the hand in the top two octaves which makes it very comfortable to play. It is a perfect harp for a younger person or a professional (or non-professional) needing a smaller mid-size instrument.
Asking price: $20,000 or Best Offer.
For details and a full appraisal of the harp, please contact Sarah Voynow directly. The harp is located in San Francisco, CA. sarah.voynow@gmail.com 415-637-3089 (4/16)
---
Camac LeBleu 47 string,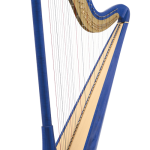 straight sound board, acoustic electric harp.
Great sound. Some small cosmetic dings, insignificant and hard to see. L&H heavy padded blue cover, amp. nanoverb effects processor, cords and plugs all included. Price reduced to $16,000. Contact: Janice Mayfield, 209-329-0771,  jainames@sbcglobal.net (11/15)
---
Cunningham wire strung 32 string celtic harp, no levers. 60″ tall. $1500 OBO. Contact Erica Messer (415) 786-9143 harpisteri@gmail.com (2/15)
---
HARPS FOR RENT:
Salvi Diana for rent, $175 per month.  Price includes delivery and pick up with a four-week notice for stoppage.  Otherwise $100 for pickup.  lauras6@prodigy.net 707-829-1450 (10/16)
---
Contact Karen Gottlieb at kgharp@pacbell.net
415-386-0702 or cell 415-244-1864
---
HARPS FOR SALE AND RENT:
NEW AND USED PEDAL AND NON-PEDAL HARPS AVAILABLE AT HARPS ETC.
We have a huge variety of harps to fit your budget and tastes. Harps etc also offers financing for qualified buyers, rent to own and trade in programs, music, strings and accessories, lessons, ensembles, workshops and concerts. Call 925-937-4277, visit www.harpsetc.com or email info@harpsetc.com for more information.
---
OTHER
HARP ENSEMBLES AT HARPS ETC. All ensembles are open to all ages and levels of playing. Learn to play with others and to follow a conductor, improve your reading, rhythm and performance skills and just have fun making music and new friends while playing the harp. Payment in full is paid for the entire semester of rehearsals at your first rehearsal. No need to bring your harp. You can use a store harp. We play an eclectic mix of musical styles in every ensemble. We ask that you meet with Jessica prior to your first rehearsal to determine which parts are best for you. You are welcome to attend one rehearsal at no charge to give it a try!
THE WEDNESDAY MORNING HARP CIRCLE meets every Wednesday from 10:00 a.m. to noon.
---
Harp Dolly donations needed:  The new 2015 public harp education program at North Shoreview Montessori School in San Mateo, CA, is in need of harp dollies. There are six harps that were donated/purchased by donation and the six students are taking to the harp very quickly. While the School District is doing what they can to accommodate this new program mid-year, they are in need of a harp dolly to get the floor harps to and from the Main office to the classroom (They are being stored in the Principal's Office until a secure place is made in the school!). Erica Messer, Founder and Program Director, loaned her dolly for the time being, but if anyone can donate one, or donate funds to purchase one, it would be a great help.
Checks can be made out to: San Mateo Foster City Education Foundation with the subject line reading "HARP" and mailed to Erica Messer at PO BOX 2071 San Mateo, CA 94401. Donations are tax-deductible! Thank you for your support. Please contact Erica directly with any questions or if you have a dolly to donate! (415) 786-9143.
---
Place your classified ad here:
---