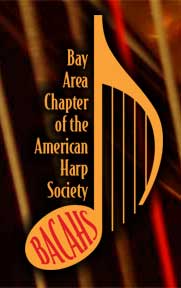 Dear BACAHS Members and Friends,
Well, our prolific harp year is winding down, but not yet over! We're gearing up for our biennial Yvonne LaMothe Schwager Competition for Young Harpists, Sunday, May 21, at a new location, the Peninsula Jewish Community Center (PJCC). Volunteers are needed, so please consider signing up. Then the Winners' Recital will follow a week later at the San Damiano Retreat Center in Danville. The final event of the year will be a master class and concert by Katherine Siochi, AHS Concert Artist, and Gold Medal Winner of the 10th International Harp Competition. Don't miss it!
We are also announcing the term-end of our present slate of board members. Don't worry, you're not being left in the lurch! We've managed to assemble a stellar group of newcomers to the board – but not to the harp! Read on to see who will be taking over the reins and leading the 2017-2019 season. And thank you to our faithful colleagues on the present executive board as well as those who have served throughout the term who join us in welcoming our successors: Secretary Henry Heines, and Treasurer Melinda Chin, Suki Russack, Alexandra Perdew, Erica Messer, David Trapp, and Mitch Landy and Jim Ward who will both stay on to help the new crew. It's been a great ride, with many highlights, not the least of which was being recognized by AHS as "Chapter of the Year 2015-2016". Thank you to all who made this possible!
Please read on to see what's happening in Member News and our Calendar of Events and don't forget to follow and like us on Facebook and Instagram!
Happy Harping!
Alice and Susie
---
MEMBER SPOTLIGHT: Alice Yothers
by Jennifer Ellis
Author's note: Hello! My name is Jennifer Ellis and I am inheriting our Member Spotlight column from Suki Russak. I want to give a huge thank you to Suki for founding the column! It's a wonderful way to learn about the multitalented people that make up our chapter. I'm honored to have the opportunity to learn more of our members' stories. This issue, we feature our out-going chapter president, Alice Yothers.
Thank you, Madam President!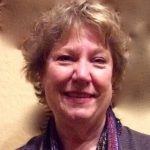 Alice Yothers is finishing her term as our indomitable BACAHS president. She is a two-term president of our chapter and BACAHS has thrived under her leadership. She wrote a short note for the Members Spotlight column about her journey to becoming BACAHS President which is included in full below. It's followed by an interview focusing on her experience as president.
In Alice's own words: My mother was a piano teacher, and I began piano lessons with her at age six. I quickly learned to read music, but I took any correction by her so personally that I dropped out of formal instruction not long after starting. I continued to listen to her as she taught other children and then I would take the same music and learn it on my own. That makes for a strong reader with no technique! I spent many years playing on my own with her gentle corrections in the background (play slowly and COUNT!) I briefly took lessons from a very accomplished pianist while in grade school but he wasn't much of a teacher and basically let me do whatever I wanted to. I took up flute in junior high school and had fun with it but never took it very seriously, letting other interests compete for practice time.
Fast forward far into the future to my (ahem) middle years. My brother had married a lovely woman whom I heard played the "folk harp" – whatever that was! We planned a visit with them over Christmas one year and she said to bring my flute so that we could play Christmas carols together. Well, that was the first time I had even seen a small harp and after getting my hands on it, any intimidation was gone. I ended up buying it from her since she was moving on to a larger one. Armed with Sylvia Woods's Teach Yourself To Play the Folk Harp book and video, I ventured forth. The video lasted one session and then I shelved it and just started reading the pieces from the book and limping along. This lasted a year. During that time I heard of a conference called Beginning in the Middle, which was coming to Santa Rosa. I signed up for it and braved it by myself, sensing that I was to meet up with some inspiration. Well, I DID. Although I felt very unworthy and insecure about why I was there, I found some women who welcomed me into their group and encouraged me. This began my journey into harp study and discovering that I was "falling in love" with my harp! I first became involved with Harpers Hall folk harp group but soon realized pedal harp repertoire was more appealing to me. I bought a gorgeous sounding Camac Clio, which I enjoyed for 11 years before replacing it with my equally gorgeous sounding Camac Atlantide.
Over the subsequent years, I have studied with several wonderful teachers, including Janice Ortega, Jessica Siegel and Dominique Piana, and been inspired by many others through concerts and master classes. I have Janice, Jessica and Karen Gottlieb to thank for twisting my arm to become involved with BACAHS, where I have served in various capacities over the past 11 years. During this involvement I have enjoyed organizing concerts and master classes, creating and editing newsletters, and promoting the harp to the community.
Many times I've wondered how things would have been different had I discovered the harp as a child. Or even if I had had it when my children were small. I could have used that outlet and fulfillment a lot earlier! But I truly appreciate what I have now and how the harp has shaped my life in so many positive ways and brought me so many valued friendships and enriched my very being. I know it will be an integral part of me for the rest of my life. Having begun harp study as a mature adult, there are so many pieces yet to learn. It's an exciting prospect!
Advice for our Members: A Conversation with Alice
When I asked Alice what she most enjoyed about being the BACAHS president, she responded, "I loved being involved in everything." She loved engaging in the full gamut of activities, explaining that she liked "just making things happen: hosting artists, planning get-togethers, just being involved in it all." Reflecting back on her presidency, she describes it as "rewarding, and fun, and very worthwhile."
Discussing what most surprised her in her time as president, she remarked that, as a "late-comer" to the harp and someone who identified as an amateur, she wasn't initially sure how the chapter would receive her as a president. In the midst of a chapter with so many accomplished members, Alice recalled, "From the very beginning, I felt very unworthy, of course." But she was happily surprised that amateur and professional harpists alike gave her "the respect for the position and gratitude." She reflected, "Whatever I was doing was appreciated…whatever I was doing was being recognized."
Alice notes that the biggest challenge of being president is getting the member support and volunteers to do the work this chapter needs to function. To offer the services the chapter offers, it needs people who are willing to donate their time. In particular, she praised Vice President Susie Spiwak, citing the way she stepped up to the plate: "We have just worked so well together and she was just—her strengths were my weaknesses," Alice said. "[Susie] has fueled my energy."
Our new board for 2017-2018 is largely made up of first-time board members. When I asked what advice she has for this and future boards, Alice advocated for boards to draw upon their own sense of inspiration and unique strengths to keep promoting the membership. She noted that professional harpists have to work collaboratively and avoid the pitfalls of self-promotion. So long as the promotion and support of the full breadth of the chapter is the primary overriding goal, the chapter will be in good hands.
If you are considering joining our local board, Alice recommended letting the current board know of your interest and to start attending events! She said there's nothing to be intimidated by, just dive in and start talking to current board members. Expect to put in your own efforts, she insists, especially for any pet project that you want the board to take on; ideas don't turn into reality without people willing to do the work to actually implement them. But, if you are willing to help, the board is a very accessible place.
Finally, I asked her to share some of the things she's listening to these days. She admits her listening is pretty "eclectic" and that no one genre represents all sides of her. She has no interest in being "rigid" about her tastes and likes exploring. Recently, she's been on an unexpected Credence Clearwater Revival kick (her new house is up in the Lodi area and she discovered they have a song called Lodi). She's been enjoying listening to some oldies and some of the more mellow Christian contemporary songs like those by Fernando Ortega. She also talked about the effect the chapter has had on her listening habits. For example, initially, she didn't gravitate towards jazz—and recounted even telling harpist Park Stickney, "I don't like jazz!" But, through her involvement with the chapter, her perspective has changed. As she's gone to more and more jazz harp concerts of our members, she's found herself enjoying jazz works that she wouldn't have listened to in the past. The jazz harpists in our membership have inspired her and she now approaches jazz with a fresh perspective. For Alice, regardless of the genre, the key thing is melody. Whether Christian contemporary or classical or jazz, Alice says "It has to have melody… I have to have something to hang my hat on!"
Alice, we thank you for your hard work, dedication, and years of service. We wish you all the best!
---
CHAPTER NEWS:
New Board formed for BACAHS: As the current Board of Directors term comes to an end June 1, a number of members have stepped up to steer the chapter in the coming years. It's a great group who are eager for your input and with that will plan to bring diverse programming to meet the needs of the chapter and its members.
The new board is comprised of the following people:
Meredith Clark, President
Krista Strader, Co-Vice President and Secretary
Kristin Lloyd, Co-Vice President
Constance Koo, Treasurer
Sarah Goss, Membership
Jennifer Ellis, Newsletter Editor including Member Spotlight column
Dana Wallace, Marketing/Website Administrator.
Jim Ward, Web Master
Brian Swager, Member-at-large
Mitch Landy, voice of reason and Facebook support
Out-going board members will become part of the Advisory Board to support and assist in the transition and as needed going forward. In addition, the Board welcomes the involvement of members through committees, events planning, volunteering, etc.
---
BACAHS Survey: In order to better plan programming for the chapter, the Board needs your input. They have developed a short survey to seek your opinions, expectations and ways you want to participate in the chapter. Please complete the survey as soon as you can. We'd like to start calculating the results within a week and we'll report back to you in the next newsletter. Get started by clicking here: https://www.surveymonkey.com/r/WYRG6W7
---
PLEASE NOTE–THERE IS A NEW LOCATION FOR THE YVONNE LAMOTHE SCHWAGER COMPETITION: Because the Bay-to-Breakers road race is happening in San Francisco on Sunday, May 21, the bi-annual Yvonne LaMothe Schwager Competition for Young Harpists is moved and will take place at the Peninsula Jewish Community Center (PJCC). PJCC is located at 800 Foster City Blvd in Foster City. There are a record number of students participating in the competition—39 people signed up from under age 9 through 25. Come out and listen to the students play—or better yet, volunteer to help out during the day. If you are interested, please email bacahs@gmail.com
---
The Winners' Recital follows on Sunday, May 28, at 2pm. It is being held in conjunction with the International Harp Festival at San Damiano Retreat in Danville. Come for the recital and stay for the concert by Deborah Henson-Conant that evening. Information and tickets are available at http://www.harpfestival.org/register
There are also still full-day commuter scholarships and 3 free concert tickets at IHF available to members of BACAHS. Concert performances include The Admiral Launch Duo; Felice Pomeranz and Frank Voltz; Barbary Grant and Kim Robertson; and Deborah Henson-Conant. Email bacahs@gmail.com to reserve your free ticket on a first-come, first-served basis.
---
American Harp Society Concert Artist and Gold Medal Winner of the 10th International Harp Competition, Katherine Siochi, visits the Bay Area on Sunday, June 11, for a Master Class and Solo Recital. Katherine is presenting recitals and masterclasses in over 20 cities across the US, and joins us before her time as AHS Concert Artist comes to an end in late June. Other honors include first prize in the junior division of the American String Teachers Association, winner of the Anne Adams Awards, winner of the Aspen Music Festival harp competition, and first prize in the Advanced Division of the American Harp Society. Her performances have been featured twice on NPR's radio program "From The Top," on New York Public Radio for WQXR's "Young Artist Showcase," and on "Performance Today." Please join us in hosting her master class and what's sure to be an incredible solo performance. Visit bacharp.org/coming-events/ for tickets and information.
---
Let's Get Social! Internet users! Are you on Facebook? If so, please like our page www.facebook.com/bayareaharp! We'll post upcoming events, photos, news, and all things related to you, our fellow bay area harpists! We want to see all things harp that are happening in the area, and this gives you the opportunity to share and interact with us without waiting for the next newsletter. Thanks for the likes!
---
MEMBER NEWS:
Jennifer R. Ellis has an upcoming performance at the Starline Social Club in Oakland, CA at 7:30 p.m. on May 13th where she will be playing works by Elliot Cole, Doug Balliett, and Brad Balliett as part of the Mainline Music Concert Series with Oracle Hysterical. Beautiful genre-crossing music, the works will include Babinagar, a song cycle based on an Afghani folktale.
She also has upcoming residencies with Admiral Launch Duo and Seen/Heard Trio at Avaloch and she will be an artist-in-residence working with the composition department at UC Davis next season.
Jennifer will also perform at Boris Goldmund's The Monthly Salon on Sunday, May 14, at the Forest Hill district home of Peter Grunberg and John Wyatt Nelson. For more information visit http://themonthlysalon.com/.
---
Jessica Siegel and Harps Etc. welcome students participating the Yvonne LaMothe Schwager Harp Competition to attend the International Harp Festival on May 27 and 28 as their guest! Many workshops on these days focus on the student harpist. Visit harpfestival.org for the full schedule of workshops and concerts including "Taming your Butterflies: Managing performance anxiety" and "Working for a Living: How to make a living as a harpist workshops"; and concerts by Deborah Henson-Conant and Barbary Grant and Kim Robertson. To make your reservation, please contact Harps Etc. at info@harpsetc.com or call 800-836-5559.
---
Anna Maria Mendieta is performing a multimedia concert-show featuring Harp, Strings, Percussion, and Dance (Tango & Flamenco). They tour all over the United States and will be touring China later this year. This is the first time it will be performed in San Francisco. With one concert only, she would love to invite our wonderful harp community to attend.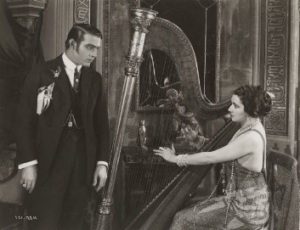 "Tango Del Cielo"
Concert-Show
Sunday, June 4th – 3:00pm
Marines Memorial Theater
609 Sutter Street, San Francisco
Tickets: www.CityBoxOffice.com/TangoDelCielo
(415) 392-4400
Anna Maria says: The program is a fun and entertaining program with music and dance (tango and flamenco) and a tribute to the silent movies, since it was through the silent movies that tango was brought to the United States…and on a side note since you're harpists, my great aunt Nita Naldi was Rudolf Valentino's co-star for many movies – and she played the HARP too!! (See photo above from one of her movies with Valentino.)
All revolves around the harp as the main instrument in this concert. So, it is especially apropos to invite the harp community.
The concert, a fundraiser to finish the recording project being recorded at Skywalker Ranch, features Argentine tangos arranged for Anna-Maria for harp and orchestra by Piazzolla's friends and musicians. Most of them are multi Grammy Award winners in their own right and the music promises to be amazing! The project has been more than a year in the making…and they are very excited to be finishing the project this fall.
---
COMING EVENTS/CALENDAR—Check out the calendar at bacharp.org to get the details on upcoming events including Boris' Salon on January 14, BACAHS Annual Potluck on January 15, and much much more!  Please post your events to the BACAHS gmail calendar viewed at http://bacharp.org/calendar-2/. If you do not already have access to post and would like to do so, contact us at bacahs@gmail.com.
---
CLASSIFIED ADS Check out the great harps and accessories for rent and sale recently added to the Classified Ads page.  If you need to list your harp or accessories, fill out the form on the classifieds page. If you have a listing that is no longer current, please let us know at bacahs@gmail.com
---
MEMBERSHIP Thank you to all who have joined the chapter or renewed your membership in BACAHS. If you have not done so already, please join or renew now. The membership year begins September 1 and goes through August 2017. Although you may be a member of the American Harp Society at the National level, we hope you will join the Bay Area Chapter as well.
The Chapter serves to meet the need to share information, promote and foster an appreciation of the harp as a musical instrument in the Bay Area, and further harp education at all levels. Your support enables continued sponsorship of harp programs and master classes.
Visit BACHARP.org/membership. The Bay Area Chapter of the American Harp Society is a 501(c)3 corporation and, as such, both membership dues and all donations are tax-deductible, to the full extent allowed by law.