Adele Hanson, 1930-2016. Thank you to Kristin and William Martin for their donation to BACAHS in memory of early childhood educator and Berkeley harpist, Adele Hanson. It is the first we heard of Adele's passing and are very sorry for the loss to her family, friends and the harp community. http://www.legacy.com/obituaries/eastbaytimes/obituary.aspx?pid=182434481
---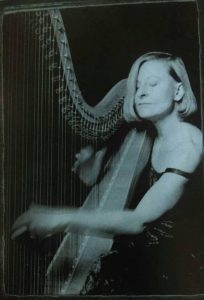 Harpist, Barbara Imhoff, passed away on June 23, 2016 after a three year struggle to overcome ovarian cancer.
Barbara was a classical harpist who played with numerous Bay Area orchestras including the Napa Symphony, Vallejo Symphony and Oakland Symphony. In the early 1990's, Barbara branched out to compose music for the harp. She created a fusion of world sounds using harp and other instruments. The pieces weave sinuous melodies, lush textures and hypnotic rhythms together for an original sound. Barbara and her bands produced many CDs, the most recent of which is The Bindi Society.
Barbara was a dedicated teacher who worked at Harps Etc and her home in Montclair. She is survived by her Mother, Evelyn Smart of Carmel, CA.
A celebration of life will take place on Saturday, October 1st, 2016 from 2:00 p.m. to 5:00 p.m. Please contact Jessica Siegel at harpsetc@pacbell.net for further information.
---
Anne Everingham Adams, 1919–2013, Harpist, Teacher, Leader
Anne Adams, performer, teacher, and leader within the American Harp Society, died Dec. 9, 2013, following a long illness.
Anne began piano lessons at age 4. Her great-grandmother, grandmother, and mother were all concert pianists. At the age of 9 she began harp lessons with Annie Louise David after seeing her harp at the Fairmount Hotel in San Francisco. She also started harmony, theory, and ear training and began attending concerts performed by the San Francisco Symphony. Her dream was to be their harpist, which she achieved.
In 1938, Marcel Grandjany came to Mills College in Oakland, Calif., for a masterclass and invited Anne to be in his first class at Juilliard. While there, she performed the debut performance of the Aria in Classic Style when Mr. Grandjany became ill. We call this the "favorite family piece." She performed the work with organ, with string orchestra, and most often with her mother on the piano. She also performed it for her mother's wedding to her second husband, with me, her daughter Patricia, playing second harp.
In l942 Anne married Burton Adams, a surgery resident under her father. That same year she joined the San Francisco Symphony, conducted by Pierre Monteau, as second harpist. In 1951 she became Principal Harpist, and in l952 she joined the San Francisco Opera. She played with many famous conductors including Arthur Fiedler and Seiji Ozawa, with whom she toured Japan. Her husband Burton went with her as the orchestra physician.
Anne was passionate about the harp. She loved performing in the Symphony and Opera, as a soloist, and in small chamber ensembles. She championed new music and commissioned many new works including the Sonata for Harp by Darius Milhaud, which is a competition piece for the 2015 International Harp Contest in Israel. Anne also taught harp for many years in her private studio and on the faculty of Mills College. She was a teacher and mentor to many who became professional harpists.
Anne Adams was a wonderful harpist and teacher and a caring and special person. Her former student Henry Spiller writes, "Her impact on me as a teacher wasn't limited to the significant steps forward in technique and expression on the harp that she fostered. It is impossible for me to touch a harp without feeling her behind me, encouraging me to 'press' the strings (à la Grandjany). Each time I touch the strings, I experience once again the incredibly sensuous friction of the strings against my fingers that I felt the first time I finally understood what she was telling me to do, and how the complex chain of gestures and sensations produced such a glorious big sound—pure magic."
The American Harp Society was fortunate to have her serve three terms on the Board of Directors, act as custodian of the AHS tape library, and perform at many conferences. In 1990 her husband Burton established the Anne Adams Awards in her honor, which encourage harp students toward excellence and help many young harpists financially. The repertoire for the Awards always includes an orchestral excerpt in honor of her many years of orchestral playing. In 2000 Anne and Burton were honored to be included in the Harp Column's list of most influential people in the harp world. In 2006 Anne and Burton received the Lifetime Achievement Award from the American Harp Society. Donations in her name can be sent to the American Harp Society Foundation, 646 Worcester Ave, Cambria, Calif. 93428.
— Patricia Adams Harris 
Article reprinted courtesy of  Harp Column magazine
---
Pleasanton Psychologist Will Joel Friedman passes away (1950‐2013)
William Joel Friedman was born April 28, 1950 in Los Angeles to Selma Bella Himovitz and Martin David Friedman. He grew up in West Los Angeles until the family moved to Sherman Oaks in 1965. He graduated from Ulysses S. Grant High School in Van Nuys.Will studied briefly at Los Angeles Valley College and graduated from the University of California at Irvine with a Bachelor of Arts in Philosophy in 1971. He completed a teaching credential at California State University, Northridge in 1973, and after teaching for a few years, earned a Master of Science Degree in Psychology at California State University, Los Angeles in 1979. Will was awarded a Doctorate of Philosophy in Psychology from Claremont Graduate University in 1986. While in school and throughout his professional life, he attended countless seminars, refining his art and broadening his scope in a wide range of specialties, always seeking passionately for the most effective ways to help people deal with life's difficulties and transform unworkable behaviors.
While living in Claremont, Will met his wife, harpist Dominique Piana, in the fall of 1984. An inveterate music lover, he had picked up her first album, a cassette tape entitled Fancy, at a local health food store called Natural High. He called to ask her to perform at a seminar he was giving in Fullerton (Experience Your Power To Succeed In All Relationships [!]). They drove together to the event in her car, with the harp loaded in the back, and the rest is history: they were married on May 26, 1985. In the spring of 1986, Will and Dominique moved to Redlands, where they bought their first house, and where their son Gregory was born. Already a seasoned practitioner and attracted to integrative settings, Will worked, among other places, at a multidisciplinary Community Clinic in San Bernadino focusing on Pain Management, was on staff at various clinics, and started his private practice, first in shared quarters, then going solo in his Loma Linda office from 1990 onward. It was in his private clinical practice that Dr. Will found his stride. He became a Diplomate in numerous subspecialties, also serving as a psychological consultant to individuals and companies, publishing a slew of professional and popular papers, writing reports and lecturing at professional conferences. In 2001, the Friedmans moved to the San Francisco Bay Area, first settling in Pleasanton, where Dr. Will also opened his new private practice, then moving to Livermore in 2008. Around that time, his quest culminated in the concept of presence‐centered psychotherapy, and he began building his own website (www.willjoelfriedman.com) into a resource center where, in essence, he gave away the world of psychology to all, to encourage psychological literacy in our present culture. His family plans to keep it online indefinitely. Mr. Positive (one of his wife's affectionate nicknames for him) sadly suffered a devastating illness, a malignant melanoma that rapidly metastasized and took his life on July 26. Besides his wife and son, Dr. Will leaves behind siblings Michael (Janet), Susan (Ray) Seaman and Jeffrey (Aileen) and their children, as well as many book and essay manuscripts that will be examined for possible publication. Curiously, or appropriately, his last book is titled The End of Suffering. A memorial service, open to the public, is set for August 11 at 3pm at the Unitarian Universalist Church located at 1893 North Vasco Road in Livermore. In lieu of flowers, the family requests donations be made to: Hope Hospice Inc., 6377 Clark Avenue Suite 100, Dublin, CA 94568‐3024, (925) 829‐8770, www.hopehospice.com.
---
Alice Lawson Count
November 19, 1916 – January 29, 2013
Alice Lawson Count, 96, historical musicologist, , publisher, harpist and teacher of the harp passed away peacefully on January 29, 2013 at the San Francisco Towers in San Francisco, California.
Alice Florence Carpenter Lawson was born on November 19, 1916, in St. Paul, Minnesota, into a family of Swedish and Plymouth/American ancestry. She was married four times, and leaves behind two daughters, Nancy Catlin Deuell and Sarah Ann Catlin, granddaughter Carolyn Alice Mullen, grandson David Roberts and five great-grandchildren.
Alice began studying the piano and organ at age five, later also pursuing voice training, and in 1936 began her private study of the harp under Alberto Salvi in Chicago. At the University of Minnesota Alice studied harp with Henry J. Williams from 1937-1940. While living in Tokyo, Japan, during the Occupation (1949-1950), she studied with famed Koto player and composer Michio Miyagi. And in 1962, she further honed her skills at the harp under the tutelage of Marcel Grandjany in Los Angeles.
Alice performed in numerous symphony and opera orchestras: the Duluth Symphony and St. Paul Civic Opera, as well as Monterey Symphony Orchestra, San Francisco Little Symphony Orchestra, Marin County Symphony Orchestra, and San Jose, San Leandro and Richmond Symphony Orchestras in California. One of Alice's greatest thrills was to perform for King George VI and Queen Elizabeth of England with the Duluth Symphony. She was First Harpist with the Victor Harp Quartet that toured in the USA from 1940-1941; and performed in the Grace Cathedral Christmas Concerts in San Francisco from 1958-1960; played for the CBS Radio "Masters of Melody" program in San Francisco in 1959; and performed with popular orchestras such as Bernie Cummings, Ernie Hackett, Ray Herbeck and Will Osborne (1938-1959). Another most memorable experience was to accompany Harry Bellafonte at the Opera House in San Francisco.
Alice taught the harp in her home studio in Carmel, San Rafael, Ross and Walnut Creek (1951-90); at Dominican College, San Rafael, and San Domenico School for Girls in San Anselmo; and while residing in Tokyo.
Alice is best known for her Music Research in Historical Musicology, which she began at the Library of Congress in Washington, DC, in the early 1960's. She received a Masters in Musicology from Dominican University in 1976. She began her D.A. in Historical Musicology at Western Colorado University, but was unable, due to medical challenges, to complete her work, "Compendio numeroso by Diego Fernandez de Huete: His Life, Music and Times".
The Compendio was the earliest manual of instruction for the harp (Madrid, two parts, 1702 & 1704, secular and sacred). It includes theory and practice for the harp of one order, harp of two cross-strung orders, and organ. Her almost completed book included an English translation with annotations and transcriptions of 102 music pages. Huete was the harpist at Toledo Cathedral, Spain, from 1682 to 1710.
As a music publisher and lecturer, Alice promoted 18th, 19th, and 20th century solo harp music or harp with voice and/or selected instruments. She wrote 61 commissioned articles for the Grove's Dictionary of Music and Musicians, in Grove's Music Instruments, American Music, Opera; as well as for Japanese editions. She also published articles for the American Harp Journal on Johann Baptist Krumpholtz, Jean-Baptiste Cardon, and Charles Oberthür. In 1974, Alice established the "Alice Lawson Aber Collection of Music for the Harp" at the UC Berkeley Music Library. After her last husband, Earl W. Count, passed away, she re-edited and updated his book "4000 Years of Christmas—A Gift from the Ages".
Alice's Memorial Service will be held on Friday, April 19, 2013 at the San Francisco Towers, in the Towers Chapel at 2pm. The Reverend Andrea Felsovanyi, Chaplain of the San Francisco Towers, will be the officiant. Harpist Dominique Piana will perform selected works by Bach, Krumpholtz, Grandjany, Schubert, Parish Alvars, Godefroid, Thomas and others, prior to the service at 1:30pm and will play during the service as well. Place of Interment will be in the Columbariam of Grace Cathedral.
A Memorial fund has been established in Alice's name with the Bay Area Chapter of the American Harp Society, of which Alice was an Honorary Life Member. Gifts may be made online at: http://bacharp.org/contribute/ or by checks made out and mailed to BACAHS , c/o Susie Spiwak, 2269 Chestnut Street, #893, San Francisco, CA 94123
From the desk of Alice Lawson Count
"A gem is not polished without rubbing, nor is a man perfected without trials." –Chinese proverb Thoreau wrote: "Only that a day dawns to which we are awake." "The art of awareness is the art of learning how to wake up to the eternal miracle of life with its limitless possibilities." From a collection of Things to Remember
Publications
18th Century
Cardon, Sonatas No. 1, 2, 3 & 4, op. 7
Krumpholtz, Sonatas 1, 2, 3 & 4, op. 7
Krumpholtz, Sonatas 1, 2, 3 & 4 op. 13
Krumpholtz, Sonata No. 1 op. 18
Krumpholtz, Five Songs for Voice & Harp
Krumpholtz, Variations on an Air of Marlborough, op. 10
Krumpholtz, Variations on an Air by Mozart, op. 10
Krumpholtz, Variations on "Jay du bon tabac", op. 10
Vivaldi, Concerto
19th Century
Bochsa, Grande Sonate in E Flat
Challoner, Sonata 1, 2 & 3 op. 2
Cramer/Chatterton, Air with Variations on "Rousseau's Dream"
Dizi, An Indian Air and Variations
Gallenberg/Bochsa, A Favorite Waltz
Reissiger/Bochsa, Weber's Last Waltz
Schubert/Godefroid, Waltz No. 2 in A Flat
Zabel, Three Concert Etudes
Monuments on Harp Literature:
Erard, The Harp In Its Present Improved State Compared With The Original Pedal Harp, London, 1821, Facsimile Edition
20th Century
Ellis, Wesley, Christmas Cantata or "The Nativity of Christ" for SATB, Harp, Flute and Organ (Harpsichord or Piano may substitute for the Harp)
Ellis, "Little Lamb, Who Made Thee?" a Children's Anthem for Soprano I, Soprano II & Alto (Organ or Piano may substitute for the Harp)
Morton, David, Tears, Idle Tears, on a poem by Alfred, Lord Tennyson for Soprano, Harp and Oboe
Taxman, Barry, Three Pieces for Solo Harp: 1. "Meditation", 2. "Chordal Piece". 3. "Flight"
Vick, Lloyd, Fragments or "The Gentle Harp"
Vamos, Grace Becker, Legend of the Redwoods
20th Century, Cello and Piano
Vamos, Circus, a Suite for Piano
Vamos, Cello Concerto in D Minor, for Cello and Piano
---
Dr. Burton Adams
We are saddened to report the passing of Dr. Burton Adams, husband of noted harpist Anne Adams. He died on November 30, 2012 at the age of 98. He was a World War II Veteran, a General Surgeon and the husband and biggest fan of Anne Adams. He was proud to be a life member of the American Harp Society and a founding member of the American Harp Society Foundation. Dr. Adams was a strong supporter of harpists and the harp world, helping Anne to mentor and succor many harp students. He opened his home to host many wonderful harpists of his generation including Marcel Grandjany, Nicanor Zabaleta and Mildred Dilling whenever they were in town. He also commissioned works for harp by Darius Milhaud, Richard Faith and other composers.
In l990 he established the Anne Adams Awards in honor of his wife Anne, principal harpist of the San Francisco Symphony and Opera for many years. These Awards encourage harp students toward excellence and have helped many young harpists financially.
In his memory in lieu of flowers, memorial contributions may be sent to the American Harp Society Foundation, Anne Adams Awards, 646 Worcester Drive, Cambria CA 93428-3230

---
Marcella DeCray (June 2, 1928-December 2, 2011)- A Life in Music
Marcella DeCray, Professor Emeritus of Harp at the San Francisco Conservatory of Music died at her home at the age of 83, surrounded by family, on December 2, 2011. Cause of death was pancreatic cancer. She had established a major career as a harpist on the East Coast before settling in San Francisco in 1963.
She enrolled at Julliard in 1948 but soon quit when hired by the Metropolitan Opera Orchestra. She was both the only woman and the youngest member of the ensemble. She was also living in Philadelphia, commuting on the Pennsylvania Railroad. (This meant going up on the 8 AM train and usually returning on the 12:01 AM.)
In 1952 she auditioned for Eugene Ormandy and was hired as Principal Harp in the Philadelphia Orchestra. She held that post for eleven years. Since this period overlapped my secondary school years in a suburb of Philadelphia, I can claim personal acquaintance with her performance. I can even be more specific and say that I remember her performing Hector Berlioz' Opus 14 "Symphonie fantastique" on one program of the Senior Student Concerts series. During her tenure with this ensemble she launched harp departments at both the Peabody Institute in Baltimore and the Aspen Music Festival.
Upon her arrival in San Francisco, she began performing for many years with both the San Francisco Symphony and the orchestra for the San Francisco Opera. The following year she co-founded the harp department at the Conservatory and taught there for 45 years. As a champion of new music, she was also a co-founder of the San Francisco Contemporary Music Players in 1973. Finally, in 1980 she began a 25-year tenure as Principal harp for the San Francisco Ballet Orchestra.
Marcella is survived by her husband, Malcolm McAfee, her children Lexy and Lael Loewenstein, her grandchildren Ava, Dashiell and Levi, and other close family Trela Caler and Donna Carter. Donations may be sent in her name to June Hom (415-503-6201) at the San Francisco Conservatory of Music.
All of the above information (except for the scheduling of the Pennsylvania Railroad) was taken from an obituary written by Lexy Loewenstein and provided to the External Affairs Office of the San Francisco Conservatory of Music.
Marcella's husband Malcolm McAfee has graciously provided the Society with two radio performances from the 1960s that can be heard on this website. The first is the Hovhaness Sonata for Harp. The second is a historical Luciano Berio interview in 1967 here in San Francisco in which Marcella played the Sequenza II written in 1963. There is also some flute and theater pieces included in this lengthy recording.
Return to top of page