News in 2017
Journey into the forest with a twangle of rainbow harps!
http://tinyurl.com/RedwoodHarps
The Bay Area Youth Harp Ensemble has released their final music video from a triptych of videos filmed last summer amid the Northern California redwood trees.  In this video, they perform "Into the Forest" composed by Sylvia Woods.
Please LIKE, COMMENT, and SHARE the video!
Please see the attached Press Release for more information.
Love,

Diana Stork and the Bay Area Youth Ensemble
---
Dr. Diana Rowan's Bright Knowledge Harp Circle opens for registration Jan 8-15. Members learn the 5-Step Bright Knowledge System, which teaches harpists how to connect with their harp purpose and make consistent progress in practice. This 100% online program works either with your current teacher or even if you're a pro, and features both learning and community aspects. Visit https://harpcircle.brightknowledgeacademy.com/ to find out more.
---
Just since Sarah Voynow's fabulous Fall Kickoff Concert for BACAHS, pieces from her CD "I'm Just a Lucky So and So" have started being heard on KCSM FM Jazz 91.1.  Listen for Billy Holiday's God Bless the Child (duet with bass), and Dorothy Ashby's Essence of Sapphire and Flighty, as well as The Peacocks, So In Love, Love in Vain and I'm Just a Lucky So and So.  Search "Sarah Voynow" in the KCSM playlist at http://kcsm.org/playlist/pub_artist_search.php.  Way to go, Sarah!
---
Congratulations to member Meredith Clark, who was recently awarded the position of Principal Harp for the Oakland Symphony.  In addition to that she has a number of performances coming up, starting with February 3 when she's playing Ravel's Introduction and Allegro with One Found Sound (a conductor-less chamber orchestra, although they're playing the Ravel with the original septet). The concert is at 8pm at Heron Arts (7 Heron St, SF).  http://www.onefoundsound.org/concerts/
She's also playing with Earplay March 20 at 7:30 pm. Jason Federmeyer: new work (2016) for flute, viola, and harp, world premiere; Earplay commission:  Toru Takemitsu: And Then I Knew Twas the Wind (1992) for flute, viola, and harp.  Preconcert talk at 6:45 p.m.  http://earplay.org/www/season.php
And several Lou Harrison works this spring for Other Minds festival and at Mills College, including:
Other Minds Festival – February 18, 7:30pm, Mission Dolores Basilica
Lou Harrison's Suite for Violin, Piano and Small Orchestra
Concert Info: http://otherminds.org/shtml/om22-info.shtml
Tickets available here: http://om22concertone.brownpapertickets.com/
Mills College – Saturday April 15, 8pm, Littlefield Concert Hall, Lou Harrison's Suite for Violin, Piano and Small Orchestra, https://musicnow.mills.edu/calendar.php
Other Minds Festival – May 20, 7:30pm, Mission Dolores Basilica, playing the following by Lou Harrison: Suite for Cello and Harp (with Emil Miland), Threnody for Oliver Daniel (harp solo), La Koro Sutro (scored for mixed chorus, gamelan, organ and harp).
Then she travels to San Luis Obispo to Festival Mosaic, Saturday July 29, 8pm – playing Copland Clarinet Concerto; Chamber Concert on Sunday July 30, 3pm – playing Ravel Sonatine (chamber version for flute, viola and harp)  http://www.festivalmozaic.com/
---
News in 2016
Karen Gottlieb and Laura Simpson will present a very entertaining and informative program: A Harpist's Tips for Freelancing Success at the fall kickoff event for SVCAHS on Sunday September 11th. Check out the calendar for more details.
---
Dominique Piana gave a lecture-recital at the AHS national harp conference in Atlanta entitled Romantic Miniatures, demonstrating the evolution of the romantic "fragment" from expression piece to impressionistic sketch. In the Exhibits Hall, she was approached by Rebecca Squire, who had commissioned Thomas Duffy, a Yale Professor of Composition, to write a holiday-inspired work for her harp ensemble through an AHS grant. It became Three Sparkles for the Season, three short pieces for 3-part harp ensemble and 2-part treble choir (boys or girls or female choir). The words are secular, which allows the work to be performed anywhere, including public schools. Dominique will make this music available to any interested harp ensemble. The harp parts are intermediate in difficulty.
Last May, Dominique premiered a song cycle based on folk poetry for tenor & harp by David Finko, entitled Passages in the Wind, with her son Greg Allen Friedman, at a concert with the Pleasanton Chamber Players at the Firehouse Arts Center. She also performed the Golubev Quintet with the ensemble. The Finko set was published in time for the conference, along with other works for voice & harp by Schumann, Dvorák, and Oberthür. Among other new publications are Dizi works for flute & harp, more Krumpholtz Sonatas, and also romantic solo works by Hasselmans, Holý, Oberthür, Posse, Schuëcker and Steibelt. The American composer Paul Creston's Lydian Song is now back in print, and particular care has been given to PASTELS, a new collection of transcriptions of descriptive music, from Beethoven to Sibelius.
---
Diana Rowan announces her first-ever Virtual Harp Summit, running September 14-20. It's a harp conference-festival that comes straight to your living room. Learn directly from 25+ master harpists, listen to gorgeous harp performances, meet other harpists worldwide, all in your PJs! Virtual Harp Summit is 100% online and FREE.
Register here to attend: http://virtualharpsummit.com
---
Still basking in the success of her first ever 2016 International Harp Festival, Jessica Siegel asks that we Save the Date for the 2017 International Harp Festival, planned for May 25-28, 2017, at the San Damiano Retreat Center in Danville, CA. And be sure to read Gaylene Suganuma's report on the 2016 festival in this newsletter.
---
Diana Stork invites you to check this newsletter's Events section for details on performances planned by her Bay Area Youth Harp Ensemble in October and December. She also invites us in December to walk the labyrinth at Grace Cathedral with music by Portia Diwa and Diana, and with Diana, later, at Community Congregational Church in Tiburon.
---
Lynn Taffin spent the summer collaborating with harpists and other musicians and composers from Paris, Zurich and even closer to home in Oregon for upcoming concert projects.
She asks that we look in the upcoming American Harp Society Journal for an article by her student Audrey Kost. Audrey chronicled her science project of building a laser harp. What a great way to merge her passion for music and science!
---
Kristal Barlaan announces that San Jose Youth Symphony Harp Ensemble auditions for the coming year are taking place now through August. Harpists junior high aged through age 22 are invited to audition. For more information please visit their Facebook page: Harp Ensemble of San Jose Youth Symphony, or https://docs.google.com/…/1X420D1h5881larQ_olg9aX6…/viewform or contact Kristal at kristalharp@gmail.com
---
Please help Erica Messer promote the harp as an accessible instrument to learn to play. She would love your vote for music classes at Bay Area Parent Best of the Peninsula. Write in "Erica Messer, Harp Instruction" in the Music Classes category. Please share with friends and post to social media. Just follow the link below and there is a category for MUSIC CLASSES
http://www.bayareaparent.com/Best-Of-The-Best-Ballot/Peninsula/ Thank you for your vote.
---
Ellis Schuman's Prelude for the Harp is scheduled for publication by the Lyra Music Company. Editions distributed by Vanderbilt Music Company of Bloomington, Indiana.
---
May 14, 2016, 11:00 am, Memorial Service for Bob Fonda at the Peninsula Free Methodist Church, 599 Jefferson Ave. Redwood City, CA 94063. Bob Fonda was loved by many, and all who knew Bob are welcome to attend. Wife Reiko and the family are touched that friends of the Harp Community have offered to play at Bob's Memorial service. SVC harpists will provide harp music for the prelude, postlude and a special song during the service. For further information, please contact Celeste Misfeldt at harpangelcm@gmail.com
---
May 21 and 22, Jessica Schaeffer performs harp with Opera Cultura's River of Women/Rio de Mujeres in San Jose. Part II of Hector Armienta's La Llorona Trilogy, the chamber opera takes place in a 1940's small town in Texas, close to the Great River. Paula dreams of escaping the rural life of the river, but is thwarted by her family and her culture. In the end, the spirit of the River and La Llorona take from her what she loves most – her only daughter. Sung in English with some phrases in Spanish.
Mexican Heritage Theater – School of Arts & Culture @ MHP, 1700 Alum Rock Ave., San Jose , CA 95116. Sat May 21st 7:00pm, Sun May 22nd 2:00pm; Ticket prices: $15.00 – $32.50; www.operacultura.org
---
May 22, 2016, 2PM Pleasanton Chamber Players will take you on a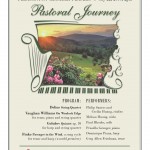 Pastoral Journey at the Firehouse Arts Center in Pleasanton, performing a unique program drawing on intimate connections to nature and painterly soundscapes. The program consists of Vaughan Williams' well-loved On Wenlock Edge for tenor, piano and string quartet from 1909; the rarely performed Delius String Quartet from 1916-17; the premiere of Russian émigré David Finko's song cycle Passages in the Wind in a new version for tenor and harp, on fifteen poems by American writer John Gracen Brown, which was first composed for tenor and piano in 1994; and Golubev's wondrous Quintet for harp and string quartet from 1953, which was inspired by the famous virtuoso, Bolshoi harpist Vera Dulova.
Performers for this concert are longtime members Philip Santos and Cecilia Huang on violin, violist Melissa Huang, cellist Paul Rhodes, pianist Priscilla Granger, harpist and artistic director Dominique Piana and the up-and-coming tenor Greg Allen Friedman. They are all based locally or in the greater East Bay area.
The Firehouse Arts Center is located at 4444 Railroad Avenue in downtown Pleasanton. Parking is free and plentiful right next to the theatre. Tickets range in price from $15 to $25 and can be bought by calling (925) 931-4848 or going online at www.firehousearts.org
---
May 23rd and 24th 7:30 pm. Méliès Madness: Enter the whimsical, wonderful world of French illusionist and filmmaker Georges Méliès. Some of his famous short films are set to music and performed with live accompaniment of harp by Carla Fabris, string quartet and flute. Featuring local Bay Area composers and musicians. Reception to follow! Tickets: $20 General, $15 Students/Seniors/Children; Balboa Theatre, 3630 Balboa St, San Francisco, CA 94121.
---
News in 2015
The new CD, "Lyric Flute and Harp Musical Offerings" featuring Olga Ortenberg-Rakitchenkov, harp, and Dawn Walker-Schrock, flute is available on iTunes, Amazon and CDBaby. The music includes the harp solo, "The Lark" by Glinka-Balakirev with the original 20th century transcription for harp done for Olga by her teacher, the world famous harpist, Vera Dulova. Olga was the first harpist in Russia to perform this piece with its several chromatic passages that were quite challenging to play as they came directly from the piano score.
In her role as Principal Harp for the San Francisco opera, Olga recently performed
"Lucia de Lammermoor" by Donizetti. There is a big harp solo in the first Act, and flute solo in the "mad scene" in the second Act. The Music Director, Nicola Luisotti, invited Principal flutist, Julie McKenzie and Olga to the stage for curtain final bow with the singers, Olga is seen in the photo holding a toy harp, so people in the audience would recognize the harpist.
Olga can be heard in concert in early 2016:
February 26, 2016–Berkeley City Club with flutist Dawn Walker and pianist Arkady Serper
March 6, 2016–First Episcopal Church on Hopkins and Alameda in Berkeley
April 2016 (date TBD)—Old First Church, San Francisco
---
Carla Fabris commissioned seven composers to write the music for seven short films that will be screened and accompanied live with an instrumentation of harp, string quartet, flute and clarinet. The Silent Short Films Accompaniment Project is intended to showcase live new music written and performed by local Bay Area composers and musicians against a backdrop of classic silent films. Carla curated and organized the event, and is performing with it at the Balboa Theatre on November 12th. http://www.cinemasf.com/balboa/
---
Cheryl Ann Fulton performs in a new recording by the ensemble El Mundo: What Artemisia Heard; Music from the Time of Caravaggio and Gentileschi, Richard Savino, director. This recording has been nominated for a Grammy in the Classical Compendium category.
---
Stephanie Janowski is gearing up for her studio's annual "20 Harps for the Holidays" concert Saturday, December 5, in Los Altos. This year's guest artist will be Patrick Ball, one of the premier Celtic harp players in the world and a captivating storyteller. More information is available on Harpeggio's Calendar.
---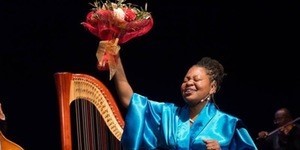 Destiny Muhammad presents her Annual Concert Celebration 'Corner 14' a Jazz Inspired Experience, on November 15, at 3 pm. The event takes place at the Malonga Casquelour Center Theater, 1428 Alice Street, Oakland, CA 94612. Destiny is making available 10 tickets that are offered to BACAHS members at no charge on a first-come first-served basis. If you are interested, please email bacahs@gmail.com. There is a maximum of 2 tickets per member.
---
As winners of the Baroque Concerto Competition, Sage Po and flutist Jessica Yang will be featured playing the 1st movement of the Mozart Concerto for Flute & Harp in the Baroque Ensemble's fall concert. The concert will be streamed live on YouTube on Sunday, November 8th at 5pm EST/2pm Pacific Time. Go to the Carnegie Mellon School of Music YouTube channel to find it.
---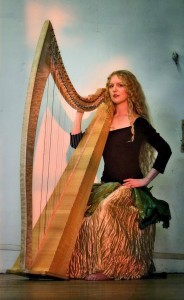 Diana Rowan is presenting: Performance Mastery: transform fear into performance power, a live web training session starting Nov 3. Diana shares: "I know first-hand the suffering performance anxiety brings. I gave up music for years because of it. Now, I perform and teach with joy all the time." For more information, please go to http://dianarowan.com
---
Ellis Schuman had his Prelude for the Harp (2014) performed by Courtney Hershey Bress at the Eastman School of Music Faculty Artist Series Festival in September. The work was dedicated to Ms. Bress, who is harpist with the Colorado Symphony Orchestra.
---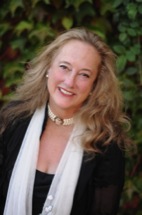 Laura Simpson will be playing all of the Holiday Teas (except December 5th) at the Ritz Carlton, San Francisco. Holiday Tea service starts on December 3rd with the final tea on December 31st. Hours are from 3 to 6 pm and reservations are strongly advised. 600 Stockton Street (415)296-7465.
---
Lynn Taffin's students played an outreach concert in mid-October at a San Francisco retirement center. The residents were delighted to hear a wide range of ages of harpists, and the older students were able to try out pieces they will record for competitions this spring. Lynn's students will gather in November for an ensemble class. They have other performances scheduled over the holidays as soloists and with ensembles.
---
Adaline (Stephens) Anaya, former student of Linda Rollo, has moved back to the Bay Area after graduating from Biola University with a degree in harp performance. She studied there with Mindy Ball and performed with their Orchestra and Wind Symphony, as well as in many ensembles. Adaline lives in Alameda with her husband, and is available to perform for weddings and events, as well as teaching piano and harp. contactaanaya@gmail.com or (510)352-7542.
---
Meredith Clark will be performing the Debussy Danses with the SF Chamber Orchestra in October. Details are here: http://www.thesfco.org/2015/06/in-praise-of-love/
Congratulations to Meredith for being awarded the principal harp position of the Arizona Opera this past January. She will continue to reside in the Bay Area except during the performance season, starting in October.
---
Anna Maria Mendieta soloed with the California Sound Collective inaugural concert in Benicia in August, under conductor David Ramadanoff, playing music by Opel, Becker, Mozart, Piazzolla and Ibert.
---
Dominique Piana will perform a small set of late romantic miniatures by Liszt, Godefroid, Oberthür, Posse, Strauss, Holý, and Kastner, on Friday October 23, at 10:30am for CCPAS (Contra Costa Performing Arts Society), at Grace Presbyterian Church in Walnut Creek.
She recently republished five of Alice Lawson Aber-Count's Krumpholtz titles, in time for the Historical Harp Society Conference held in Oakland last June, where she presented a paper on Jean-Baptiste Krumpholtz, taken from her own translation of his memoirs.  Read Dominique's Reminiscing on the 32nd Annual Historical Harp Society Conference.
---
Sage Po, who has studied under Lisa Stine, Laura Porter and most recently, Gretchen Van Hoesen, graduated from Carnegie Mellon University this May with a BFA in Harp Performance with University and College Honors. She gave the commencement speech for the School of Music.
Sage performed with the Music in the Mountains Festival Orchestra for
their 33rd annual SummerFest in Grass Valley. She is now back in
Pittsburgh at CMU, student teaching to complete her Music Education
credentials. As winners of the Baroque Concerto Competition last
fall, Sage and flutist Jessica Yang will perform Mozart's Flute & Harp
Concerto in Pittsburgh on November 8th.
After returning to Grass Valley in December, Sage will perform with
InConcert Sierra for their holiday concerts. In addition to starting
her own harp studio, this winter Sage will co-conduct the Sierra
Foothill area's first Youth Orchestra, one of several exciting new
educational programs of Music in the Mountains.
---
Diana Rowan has been developing her World Harp Techniques six-week live web training http://dianarowan.com/world-harp-techniques-registration, which started September 1 with an overview of harp techniques from Africa, the Middle East, India, Asia, Europe and Latin America, the subject of all her own music and PhD. The next six-week live web training session will start November 3, and will focus exclusively on harp techniques from Africa. From there, it will be six-week sessions each on the Middle East, India, Asia, Europe and Latin America.
This past summer Diana has enjoyed giving solo concerts, performing with composer-pianist Stephen Horne for the SF Silent Film Festival, and with various world music ensembles, including Ya Elah, Pezhham Akhavass and Deepak Ram, as well as giving talks on stage fright and creativity. More of the same will be coming up, plus teaching and performing at the Northern Lights Harp Festival in October in Canada. All details are at http://dianarowan.com.
---
Lynn Taffin spent the summer reconnecting with colleagues all the way back to Tanglewood days. Along the road in France, Italy and Switzerland she worked with colleagues to collaborate on upcoming concert projects, coached another harpist for fall orchestral concerts and tuned up a former student's harp to make sure she's still practicing despite her busy new career as a marine biologist. Even students who move around the globe have to keep up their good work! Lynn is looking forward to upcoming studio ensemble projects this fall.
---
David Trapp, incoming co-VP, announces that his composition, Penny Ante Jig, was accepted for publication in the Fall 2015 issue of the Folk Harp Journal, ISFHC (International Society of Folk Harpers and Craftsmen). Congratulations, David!
---
Shannon Zheng, who received the Harpiana Prize at the Yvonne La Mothe Schwager competition in May, was featured in the Livermore-Amador Symphony Youth Orchestra (LAYSYO) this summer. She played Legende by Carl Stix, along with a 50-piece string ensemble. She received great acclaim, both for her playing and for the piece itself, a beautiful work in the Viennese romantic style, republished by Harpiana Publications.
---
Karen Gottlieb completed a CD which has been released by Innova Records. Called 'Music For Harp' , it features mid-20th century composers of the the San Francisco Bay Area- Lou Harrison, John Cage, Wayne Peterson & Dan Reiter. The musicians performing on the CD are members of the SF Contemporary Music Players & Earplay and the CD cover art is by a local photographer. The music is easy/accessable listening (nothing ear shattering!!) –beautiful melodies and exotic rhythms & harmonies. The website has a short sample too. See more info below.
The CD is available now for purchase or downloading on itunes thru Innova Records and the American Composers Forum.
It will be available on iTunes and Amazon for single and album downloads, or streaming thru Spotify & emusic.
See Karen Gottlieb Music For Harp for additional details.
---
Laura Simpson will be in Washington, DC, April 20, where she will perform with Lorelei Kornell in a reading of the play, The Telltale Harp, a comedy about wedding harpists which they co-wrote. This features live harp music and some original songs by Laura, and will be presented at St. Mary's Armenian Apostolic Church.
---
Diana Rowan writes Here are my upcoming shows:
Diana Rowan: Music that Moves Between Worlds solo harp concert,  Monday, April 6 @ 7:00 PM Lander WY
Solo harp concert and discussion featuring original harp music with influences from all over the globe. Also teaching master classes and private lessons in the area. http://landerconcerts.org/dianarowan.php
---
Diana Rowan plays at The Cosmic Mass
Sunday, April 12 @ 6:30 PM
Center for Spiritual Living
5000 Clarewood Dr
Oakland, California
Join us for the groundbreaking spiritual gathering created by Matthew Fox known as The Cosmic Mass.
https://www.facebook.com/events/807917605950168/
---
Diana Rowan: Placerville solo harp house concert
Saturday, April 25 @ 2:00 PM
I am honored to be playing a house concert for my beloved harp builder, John Westling. Please contact me directly at diana@dianarowan.com for reservations for this intimate event.
---
Diana Rowan & Ya Elah, Eastern European women's vocal ensemble, Sunday, April 26 @ 4:00 PM
St Bede's Episcopal Church
2650 Sand Hill Rd
Menlo Park, CA 94025
Equal parts musical fireworks/healing ritual/rollicking good time, Ya Elah sparkles with the influence of Bulgarian village songs, Middle Eastern melodies, and more from the world's various musical traditions.
Ya Elah aspires to inspire compassion among diverse cultures and hopes to help bring healing and a sense of wonder at the ways all have connected to the Divine.
http://yaelah.strikingly.com/
---
Diana Rowan MC's and performs at the Pagan Alliance Festival
Saturday, May 9 @ 1:00 PM — 5:00 PM
Martin Luther King Jr. Civic Center Park
2151 M.L.K. Jr Way
Berkeley, CA 94704
This event is free, funded by Pagan Alliance fundraisers held throughout the year. Come join us for wonderful music, great speakers, dozens of vendors, and a broad assortment of events for the entire family! https://www.facebook.com/events/1581788808731612/
---
Surprise! Piano Duo concert with Becky Trujillo
Sunday, May 24 @ 4:00 PM
DC Piano Company
2416 San Pablo Ave
Berkeley, CA 94702
Yes, I play the piano too! Excited to share a fiery afternoon of piano duo repertoire by Brahms, Ravel, Debussy, Poulenc, Stoyanov and Stopschinski. We will be performing in Dennis Croda's large piano store, and will feature different pianos for different composers!
---
Diana Rowan: Music that Moves Between Worlds solo harp concert with special guests
Sunday, May 31 @ 3:00 PM
Resurrection Lutheran Church
397 Euclid Ave
Oakland, CA 94610
Free to the public, this concert will have a very special guest in sublime soprano Jennifer Paulino www.jenniferpaulino.com. Come hear our version of Titanium! Always a lovely afternoon at this concert series followed by reception.
---
Diana Rowan & Stephen Horne at the SF Silent Film Festival
Sunday, May 31 @ 9:30 PM
The Castro Theatre
429 Castro St
San Francisco, CA 94114
Excited to be playing again with the world's leading silent movie composer/pianist Stephen Horne for "The Swallow & the Titmouse", a French silent from 1920
---
Brian Swager just launched a new YouTube channel called "Sundays at Immanuel" featuring organ and harp music that I play on Sunday mornings.  Please enjoy the music, and please share the playlist with anyone who you think might enjoy joining us on Sunday mornings for church services.  It would be nice to see more people in our congregation, so please use this channel as a calling card to let people know what kind of music they can experience with us.
I've started with ten selections (eight organ, two harp) and plan to add more pieces periodically.  To listen, click on the link below.  You can play the entire playlist of 10 pieces by clicking "Play all," or you can select pieces individually from the list.
https://www.youtube.com/playlist?list=PLfsmCOgtAyaC3pVW5HBbIlK51fCkrKy7z
Immanuel Lutheran Church – 1710 Moorpark Ave – San Jose  CA – Worship:  Sundays at 10:30 AM
And: Spring has sprung, and it's organ recital time again at the Legion.  If you attend, consider going to the museum early to see the special exhibition on High Style.  They want me to play a High Style program, but I insist that all of my recitals are High Style.  I suggest that they offer me a stylish, $20,000-costume to wear for the event.  Failing that, we have the great Skinner organ, a fine example of quintessential, high style, American organbuilding.  My program will include two famous warhorses:  the Bach Toccata and Fugue in D Minor, and the Toccata from the Fifth Symphony of Widor (my Easter tradition).  I'm also bringing back the dramatic arrangement of Bach's chorale, Come, Sweet Death, made by Virgil Fox who brought incomparable style to the pipe organ in the 20th century.  You'll find the rest of the program here:  http://allegrofuoco.com/prog036.html
SATURDAY 11 APRIL – 4:00 PM
SUNDAY 12 APRIL – 4:00 PM
---
Anna Maria Mendieta launched a new harp duo with Dan Levitan and has performed concerts around the Bay Area since November.  In December she toured Texas with her ensemble, performing with award winning guest tango dancers from Canada and Colombia.  In January she had a successful tour in Louisiana and was thrilled to be invited to perform her entire concert-show with the Rapids Symphony in Alexandria, LA. It was quite a production with new multimedia, new arrangements and orchestrations created especially for the concert. She'll be performing this new symphonic program with other orchestras during the 2015-2016 concert season.  And finally, in February she was guest soloist with the Pacific Chamber Symphony premiering a beautiful original composition by Jeremy Cohen arranged for harp and string orchestra. Performances were in Lafayette and at the Bankhead Theater in Livermore, CA.
---
Lynn Taffin recorded music for the upcoming world premiere performance with Alonzo King LINES Ballet Company. This world premiere ballet unites Alonzo King with natural soundscape artist Bernie Krause and composer Richard Blackford. For more than forty years, Krause has traveled the globe with microphones tuned to the earth and its creatures.  It was a very dynamic collaboration in the studio and should be magical to see choreographed.  Tickets and more information are available through the Yerba Buena Center for the Arts box office.
---
Noel Wan will be playing a solo harp concert on May 31 as part of the Carmel Music Society's 2014-2015 concert series.  She was chosen for this honor after winning the 2014 Carmel Music Society Music Competition: Instrumental Division.  For more information on the concert and competition visit:
http://www.carmelmusic.org/concerts_2014-15/06_comp_winner/index.html
In 2012, Noel was awarded the prestigious Qi-Mei Music Award and Scholarship from Taiwan's Qi-mei Art Foundation, and gave her solo recital for the grand opening of Taiwan Harp Center in Taipei.  She later received the Aharon Zvi and Mara Propes Foundation Special Award at the 18th Israel International Harp Contest (2012).  She also won second prize at the 2013 Nippon International Harp Competition in Japan. Noel now is studying for her Master's Degree at Yale Music School under tutelage of June Han.
---
Beth Erickson emails us that she will be playing at the following venues in the South Bay:
March 15 at Hannegan's, Los Gatos, 2-4 pm
March 22 at a charity luncheon, Sharon Heights Country Club, Los Altos Hills, 10-12 pm
March 29 concert at Book Buyers, Castro Street, Mountain View, 3 pm
May 15 concert at Berryessa Public Library, San Jose, 6:30-7:30 pm
May 19 concert at Educational Park Library, San Jose, 6:45-7:45 pm
May 20 concert at Cambrian Library, San Jose, 6:30-7:30 pm
---
Karen Gottlieb performed with Opera Parallèle in Dead Man Walking. Composed by Jake Heggie with libretto by Terrence McNally, Dead Man Walking is based on Sister Helen Prejean's 1993 memoir, which tells of her time working with death row inmates at Louisiana State Penitentiary, and of a particular relationship she developed with one of the inmates.
---
Brain Swager's organ recital took place January 31 and February 1 at the Palace of the Legion of Honor. Brian states "The program is somewhat of a mixed bag, with music from the 17th, 18th, and 19th centuries. They've asked us to start organizing our recitals around a theme this year, but since I had already selected the pieces, I assigned the theme "From Vocal Music to Organ Music" since all of the pieces were based on, or inspired by, sung music. Program details here: http://allegrofuoco.com/prog035.html.
---
Erica Messer writes that the new 2015 public harp education program at North Shoreview Montessori in San Mateo, CA, for which she is the Founder and Director, is off to a good start. "We have six harps that were donated/purchased by donation and the six students are taking to the harp very quickly. While the School District is doing what they can to accommodate this new program mid-year, We are in need of a harp dolly to get the floor harps to and from the Main office to the classroom (They are graciously being stored in the Principal's Office until a secure place is made in the school!). I have loaned my dolly for the time being, but if anyone can donate one, or donate funds to purchase one, it would be a great help."
Checks can be made out to: San Mateo Foster City Education Foundation with the subject line reading "HARP" and mailed to Erica Messer at PO BOX 2071 San Mateo, CA 94401
Donations are tax-deductible!
Thank you for your support. Please contact Erica directly with any questions, or if you have a dolly to donate! (415) 786-9143
---
News in 2014
Dominique Piana and her tenor son Greg Allen Friedman were invited to tour parts of Wyoming by the Allegro Chapter of the Wyoming Music Teachers Association.  Their program, Songs of Longing and Belonging, featured German lieder, French mélodies and Italian airs, interspersed with harp solos from the Romantic era by Donizetti, Zabel, John Thomas and Saint-Saëns.  Included were some beloved songs by Schubert and Schumann, sumptuous late-romantic gems by Strauss and Holý, haunting settings by Fauré, Chausson and Reynaldo Hahn, and sentimental tunes by Leoncavallo and Tosti.
Tour stops included performances in Sheridan, Powell, Basin, Worland and Rock Springs.
News in 2013
Laura Simpson plays her harp during the month of December at the Afternoon Tea in San Francisco at the historic Palace Hotel. Listen to her melodious sounds while enjoying holiday cheer in the elegant and festive setting.  Laura performs Monday through Saturday through December 28 from 1:30pm until 4:30 pm.
---
Sarah Voynow is appointed Principal Harp for the SF Ballet 2013-2014 season
---
The Harpoons!
A genre-bending, boundary-pushing classically-trained duo featuring two of the most mysterious and magical instruments of the orchestra: harp and bassoon. Harpist Jessica Shchaeffer and bassoonist Erin Irvine. www.theharpoons.com
---
Erica Messer (HARPISTERI) has a new album of relaxing harp music called Cenesthesia.
From CD Baby:
Album Notes
The harp has qualities that no other instrument can mimic that are instantly soothing and peaceful. The compositions on this album are universally enjoyable and the style is completely unique. Erica uses lots of colors and rhythmic techniques in her performance and this CD features three different harps in a variety of song styles yet the album has a very cohesive sound.The artist resides in the San Francisco Bay Area and the album was recorded in San Mateo at Broken Horn Studios.
To purchase CD visit www.ericamesser.com. Two music videos from this album, The Awakening and Snow, Sand, Sable, Spindle can be seen on Erica's youtube page, www.youtube.com/harpisteri
---
Naomi Hoffmeyer will be appearing in a number of performances in the coming months. They cover nearly the full gamut, from opera to contemporary chamber music to solo, so hopefully there will be something for everyone! Visit the calendar at BACHARP.org/calendar for details.
---
---
News in 2012
Cheryl Ann Fulton was a featured performer on the Welsh Triple Harp at the AHS 50th
Anniversary Conference in New York City in July, and received a standing ovation after her
performance. She also gave a master class, The Art of Articulation.
Cheryl Ann performed the Handel Harp Concerto on her Welsh triple harp with the Carmel Bach Festival, also in July, and was lauded in the following reviews: Alexander's Feast With a Tasty Twist, by Peter Tuff, July 16, 2012 "Cheryl Ann Fulton's performance of Handel's Harp Concerto in B-flat Major, Op. 4 on the Welsh triple harp was wonderful. Her polished performance and the unique sounds of her historic harp were quite a discovery.
"Barbara's Best – Top Culture from California's Central Coast presented by Barbara Rose
Shuler, Review: Bach, Handel and Cacioppo: "Embraced within Handel's oratorio "Alexander's Feast" he placed Handel's lovely harp concerto, featuring Cheryl Ann Fulton's brilliant playing of the Welsh triple harp …"
---
Karen Gottlieb, along with participating in the Musiccircus tribute to John Cage in October (see calendar item), will take part in the ECO Ensemble with Cal Performances November 8 at 8 pm, performing Esa-Pekka Salonen 'Mania' for solo cello and large ensemble, at Hertz Hall-UC Berkeley, conducted by David Milnes. In December Karen performs in Britten's Ceremony of Carols and Meecham's 7 Joys of Christmas with the San Francisco Girls Chorus December 1, 7, and 18th, and with the Young Women's Choral Project, December 14-15.
---
Mitch Landy continues to publish arrangements of well-known music, newly transcribed for pedal harp. Most recent publications include "Sicilienne," by Faure, Nocturne in Eb by Chopin, and "Funeral March for a Marionette," by Gounod. (This last may be familiar as the theme from "Alfred Hitchcock Presents.") All titles are available from Melody's Traditional Music, www.folkharp.com.
---
Anna Maria Mendieta, over the past year, had tours in Texas, Mississippi and Oregon. This past April, she played in a special concert for the Pope at the Vatican with an orchestra from Madrid. In September she performed a concert ("Tango del Cielo" Program) at the Gallo center or the Performing Arts, Modesto, CA. She will also be performing the same program in Ocala, Florida on September 24. She will be performing with the Sacramento Philharmonic on September 29, 2pm at the Community Center Theater in an all Latin American and Spanish music program. Anna Maria will be the concerto soloist with the Vallejo Symphony on Saturday, October 20 at 8pm (Preconcert talk at 7:00), performing a Piazzolla Tango Suite arranged for her by Piazzolla's musicians. http://www.vallejosymphony.org/tickets.html. The same concerto will be performed with Master's Sinfonia on January 26 (8pm) and January 27 (3pm).
---
Dominique Piana has been busy publishing many new titles through her company Harpiana Publications. She just completed her Alfred Holý project by getting the last missing works back in print, including a few ensemble pieces such as Legend for harp and string quartet. Before the N.Y. Harp Conference, she started a new series dedicated to arrangements by premier New York jazz harpist Riza Printup, with six titles available already, including A Time for Love and Autumn Leaves. Several other original solos (Moór, Schuëcker, Oberthür) and ensemble pieces (Stix, Bruch, Fuchs, Bochsa, Hummel, Ganne and Servais) that widen the scope of harp literature, are ready or almost ready, awaiting first performances. (PS, this is an invitation! Please contact Dominique if you would be interested in premiering any of these.)
---
Susie Spiwak participated in the first annual Canadian International Summer Harp Institute http://www.facebook.com/CanadianInternationalSummerHarpInstitute. The program was held at the Vancouver Orchestra School of Music with distinguished harp faculty Elizabeth Volpe-Bligh, Principal Harpist VSO; Gianetta Baril, performer and teacher at University of Calgary and Mount Royal College; Cristina Braga, principal harpist, Rio de Janeiro Municipal Theatre Symphony Orchestra and interpreter and performer of Brazilian music for the harp; and Judy Loman, Principal Harpist Toronto Symphony (1960-2002), Professor of Harp, University of Toronto and Curtis Institute of Music, and student of Carlos Salzedo. Susie enjoyed opportunities to perform solo and ensemble works, participate in workshops as diverse as Alexander Technique and South American Rhythms, and bond with other harpists in a supportive learning environment.
---
Diana Stork, Portia Diwa and Diana Rowan participated, in early September, in the World Music Journey – a benefit for the Tibetan Aid Project, a nonprofit organization that raises funds to support and promote education and literacy in Tibetan communities in Asia. Diana will also perform with Portia at "Dreaming Transformation: Women's Dream Quest", November 2-3, an event at Grace Cathedral presented by Veriditas. www.veriditas.net
---
Lynn Taffin's students have been invited to perform later in September at the VIP Home Tour for the Junior League of San Francisco. Lynn is now teaching at the Lycée Francais de San Francisco and will be leading the 4th and 5th grade classes in a program of Celtic music this December.