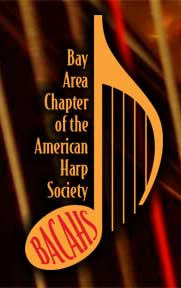 Dear BACAHS Members and Friends,
 We hope to see many of you at the upcoming Winter Potluck this Sunday January 15 at 4 pm!  If you haven't already contacted Alice with your dish choice, please do so soon.  We're looking forward to great food and fellowship, as well as our second annual Music Swap, and a great program of harp and saxophone with the Admiral Launch Duo (see Member Spotlight to meet Jennifer Ellis).  Don't miss it!
 Hot on its heels is the Bay Area Weekend with Susann McDonald, February 25, 26 and 28.  There are still some auditor slots open for the master classes, as well as seats for Recharging your Passion, for professionals and adult students.  Please RSVP!
 Karen Gottlieb is at it again with great tips for harpists.  Be sure to check out Contracts for Free-Lance Harpists this issue. 
 And read on to find out about the International Harp Festival scholarships we're awarding some lucky BACAHS members.  Please let us know if you want your name in the drawing. 
 Karen Gottlieb is spearheading a recruitment drive for BACAHS board positions for the 2017-2019 tenure.  If you would like to find out how you can be a part of this vibrant board, please contact Karen at kgharp@pacbell.net or Susie Spiwak at bacahs@gmail.com.
 Happy Harping!
 Alice and Susie
MEMBER SPOTLIGHT:  Jennifer Ellis by Suki Russack
Jennifer Ellis, harpist, performer, teacher, arranger, and all around nice person, is in the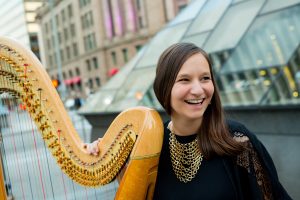 member spotlight because her Admiral Launch Duo will perform at the BACAHS annual Holiday Potluck on January 15.  Jennifer, who loves non-traditional musical collaboration and teaching, graciously shared her evolution in music that led to her collaboration for the duo with saxophonist, Jonathan Hulting-Cohen.
If you think loading a harp in a car is difficult, try fitting a harp, dolly, bench, luggage for two, mics and electronics equipment, and three saxophones in their hard cases!  Touring with such a cavalcade of instruments and equipment is always an adventure, but they both agree that the challenges are more than worth it. Jennifer and Jonathan met while in graduate school at the University of Michigan.  They were both enrolled in a large ensemble improvisation class. In those large group improvisations, they were fascinated by the sound of harp and saxophone together.   At the same time, they were enrolled in a music pedagogy course and discovered they shared similar philosophies of music and teaching. It was then that the musical duo was formed. They both saw the duo as a partnership of equals, not harp as accompaniment and saxophone as melody.
With harp and saxophone duos cropping up and commissioning pieces across Britain and the United States, Jennifer sees this instrumentation as a vibrantly growing genre of harp chamber music.  Both the sax and the double action harp were developed in France during a similar period and there are pre-existing pieces for the combination. However, in order to bring about a more contemporary sound, Jennifer and Jonathan have been actively commissioning composers, from Stephen Rush to Angelica Negron to Natalie Moller to Christine Hedden and others. The duo has been touring with this repertoire and will release their debut album in late 2017.  The album is being funded by a FRG-Healy grant out of the University of Massachusetts. Jennifer states "we're always looking ahead to the next project and are always interested in new commissions from composers.  Both with the Admiral Launch Duo as well as in other settings, I really enjoy collaborating with composers to premiere new works for harp." Jennifer has given over fifty premieres.
This past fall, Jennifer was selected to participate in OneBeat, an initiative of the U.S. Department of State's Bureau of Educational and Cultural Affairs, & produced by Bang on a Can's Found Sound Nation.  OneBeat brings musicians (ages 19-35) from around the world to the U.S. for one month each fall to collaboratively write, produce, and perform original music, and develop strategies for arts-based social engagement. Check out OneBeat's website to learn more about the program.  Talk about making an impact with your music…Great work, Jennifer!
Jennifer is very grateful to her wonderful teachers who encouraged her in her career. She began her studies with BACAHS member Jessica Siegel, who gave her endless encouragement and a strong musical and technical foundation. She continued her studies with Yolanda Kondonassis, both at Oberlin for her undergraduate degree as well as the Cleveland Institute of Music for her Masters of Music degree.  She earned her Doctorate of Musical Arts in harp with additional certificates in musicology and teaching at the University of Michigan studying with Joan Holland.
Jennifer says she is grateful for the vibrant Bay Area Chapter of the AHS.  "I benefitted immensely by growing up in such a thriving and active AHS chapter.  BACAHS gave me access to unforgettable masterclasses with artists like Susann McDonald and Alice Giles.  And from a young age I was able to attend live concerts by world-class artists sponsored by the American Harp Society, including Isabelle Moretti and Dan Yu.  Finally, I was a frequent participant in our annual competition, which gave me valuable performance experience.  These concerts, masterclasses, and competitions inspired me to always strive for the next level of harp playing."
PRACTICAL TIPS FOR HARPISTS
Contracts for the Freelance Harpist: Their Importance and What to Include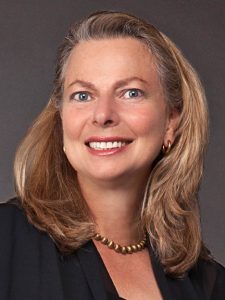 By Karen Gottlieb, Harpist and Harp Technician, 2017, with input from Meredith Clark, Jennifer Ellis, Constance Koo, Lynn Michel-Taffin, Diana Rowan, Jessica Schaeffer, Laura Simpson and Sarah Voynow.
Harpists spend many hours learning to play the harp…BUT…of equal importance as a performer is running a business. It is also an art learned over the years from successes but also from mistakes.  A well written contract is critical to the running of any business and is beneficial for both parties, insuring a satisfied client and a 'happy harpist'.  This article combines input from successful professional harpists in the San Francisco Bay Area that I polled to make the information as complete as possible.  Below are the recommendations regarding CONTRACTS for freelance harpists.
Before accepting any job, ask yourself – "Do I want this job?"  The following are my personal criteria for accepting a job:

Does it pay well enough?
Is it music that I want to play, do I want this experience and/or do I want to work with these musicians?
Do I believe in and support the people/organization who have asked me to play?
To accept the work, I require at least one and ideally two of the above.
Everyone should consider a contract as a necessary document regarding services rendered, whether for a wedding, party, funeral or other freelance jobs.  It is an empowering statement that sets a level of professionalism. It can also cover studio teaching policies. The contract (or agreement) clarifies and lowers any risk of misunderstandings, clearly stating expectations for both the client and the harpist.  It serves to protect both parties, including guarantee of fees, reimbursement and compensation, details of venue and time, attire, music, etc.  Contracts can be either written, printed, or in email format (which is now legally binding).  However, all harpists polled agreed that a 'signed' document is most effective and easily understood. Generally, the event booking becomes official only upon receiving a signed contract and deposit to secure the time and date.
Many clients (especially regarding weddings or funerals) have not worked with contracts, so it's important that all the details are spelled out.  A 'generic' contract offered by the client may not meet the particular needs of a harpist.  Consider adding your own contract-addendum.  It is amazing how many clients have not thought about a harpist's special needs—e.g. a solid and level place to play, convenient parking and load-in for the event, and potential weather issues, including sun protection at outdoor venues.
 An initial conversation with the client is always helpful to clarify needs and contract requirements.   Your job can often be to guide and help clients understand exactly what they want.  Because all clients have slightly different needs, computers and word processing will allow variations in wording of the written document.
For specific contract details, download the rest of this comprehensive article that provides the information to include in any contract, questions to ask yourself, as well as sample letters/contracts and forms that may be helpful.  It is a major subject that deserves much attention and thought.  I wish to thank my colleagues for sharing their expertise and experiences – truly an 'ensemble' effort.   A special thanks to Alice Yothers, Susie Spiwak and David Klein for their editorial assistance.
 CHAPTER NEWS:
RSVP today for the BACAHS Annual Winter Potluck this coming Sunday, January 15, 4pm at the home of Malcolm McAfee and the late Marcella DeCray, 30 Commonwealth Avenue, in San Francisco.  In addition to great food and camaraderie, we will be entertained at the harp compliments of member Jennifer Ellis with her Admiral Launch Duo, including Jonathan Hulting-Cohen, saxophone.
Remember the music swap!  Bring sheet music and books you no longer need and take home music from others that you always wanted to play.
Please rsvp and indicate what dish you will bring: Alice Yothers 510-305-9438 or ayothers@yahoo.com
Sign up now for Bay Area Weekend with Susann McDonald
Susann McDonald, renowned harpist, recording artist, and teacher, is coming to the Bay Area for three spectacular events taking place February 25, 26 and 28, 2017.Sign up now to attend Master Classes with this trailblazing artist who has elevated the harp and inspired harp students around the world through a performing and teaching career that spans more than five decades.
San Jose Master Class, Saturday, February 25, 2017
San Francisco Master Class, Sunday February 26, 2017
Recharging Your Passion—a conversation and luncheon for Teachers and Adult Students with Ms. McDonald and Linda Rollo in San Jose—Tuesday, February 28, 2017
For Location and Registration information visit bacharp.org or http://siliconvalleyharp.org/. The Master Classes are quite popular for participants—there is a waiting list for San Jose and San Francisco is sold out.  There is still plenty of room for auditors. Presented by Silicon Valley and Bay Area Chapters of the American Harp Society.
The Bay Area Chapter of the American Harp Society has agreed to be a sponsor of the 2017 International Harp Festival, May 25-28, 2017, at the San Damiano Retreat Center in Danville, CA.  As a benefit to our membership, scholarships will be awarded to two BACAHS members, to be determined in a random drawing by the chapter board.  Each scholarship is for the full registration fee of the IHF, which allows the winner entry to all of the workshops and concerts at the Festival (a $450 value).  Lodging and food may be purchased separately at http://www.harpfestival.org.
If you wish your name to be placed into the drawing pool for one of the scholarships, please contact Alice Yothers, ayothers@yahoo.com, by February 28, 2017, and let her know of your interest.  The winners will be notified during the first week of March 2017.  You must be a BACAHS member to be eligible.
Guest artists and presenters for the Festival include Kim Robertson, Julie Ann Smith, Frank Voltz, Jennifer Ellis, Johathan Hulting-Cohen, Jessica Siegel, Felice Pomeranz, and the winners of the Yvonne Lamothe Schwager Competition for Young Harpists, together with guest artist Madeline Jarzembak.  Workshop topics will include Teaching Tactics, Preparing for your Career, Jazz Improvisation for Lever and Pedal Harps, Celtic Music, Editing and Arranging Music, Basic Composition, Healing Harps, Intro to Chamber Music, plus many more.  Visit http://www.harpfestival.org for full information.
Students up to age 25, start preparing for the Yvonne LaMothe Schwager Competion for Young Harpists to be held on Sunday, May 21, 2017 at the San Francisco Conservatory of Music. The Winners' Recital will take place on Sunday, May 28, 2017 at the San Damiano Retreat Center in conjunction with the 2017 International Harp Festival.  Madeline Jarzembak, new Principal Harp with the Santa Cruz Symphony, will be the featured performer in addition to the student competition winners. Repertoire, Guidelines and Registration are available at http://bacharp.org/competitions/
Benefit for BACAHS members:  BACAHS joined the Center for New Music (C4NM) at 55 Taylor Street in San Francisco.  C4NM offers rehearsal, meeting and performance space to its members at reduced rates.  If you are interested in learning more about renting the space, contact Susie Spiwak at bacahs@gmail.com.
Are you interested in joining the board of your Chapter? The 2016-2017 term for the current officers will end May 30, 2017. There will be openings for many of the Executive Board offices including President and Vice President.  Please get involved and keep the momentum of the chapter going.  For more information and to express your interest please contact Alice at ayothers@yahoo.com or Susie at bacahs@gmail.com.
Dr. Diana Rowan's Bright Knowledge Harp Circle opens for registration Jan 8-15. Members learn the 5-Step Bright Knowledge System, which teaches harpists how to connect with their harp purpose and make consistent progress in practice. This 100% online program works either with your current teacher or even if you're a pro, and features both learning and community aspects. Visit https://harpcircle.brightknowledgeacademy.com/ to find out more.
Just since Sarah Voynow's fabulous Fall Kickoff Concert for BACAHS, pieces from her CD "I'm Just a Lucky So and So" have started being heard on KCSM FM Jazz 91.1.  Listen for Billy Holiday's God Bless the Child (duet with bass), and Dorothy Ashby's Essence of Sapphire and Flighty, as well as The Peacocks, So In Love, Love in Vain and I'm Just a Lucky So and So.  Search "Sarah Voynow" in the KCSM playlist at http://kcsm.org/playlist/pub_artist_search.php.  Way to go, Sarah!
Congratulations to member Meredith Clark, who was recently awarded the position of Principal Harp for the Oakland Symphony.  In addition to that she has a number of performances coming up, starting with February 3 when she's playing Ravel's Introduction and Allegro with One Found Sound (a conductor-less chamber orchestra, although they're playing the Ravel with the original septet). The concert is at 8pm at Heron Arts (7 Heron St, SF).  http://www.onefoundsound.org/concerts/
She's also playing with Earplay March 20 at 7:30 pm. Jason Federmeyer: new work (2016) for flute, viola, and harp, world premiere; Earplay commission:  Toru Takemitsu: And Then I Knew Twas the Wind (1992) for flute, viola, and harp.  Preconcert talk at 6:45 p.m.  http://earplay.org/www/season.php
And several Lou Harrison works this spring for Other Minds festival and at Mills College, including:
Other Minds Festival – February 18, 7:30pm, Mission Dolores Basilica
Lou Harrison's Suite for Violin, Piano and Small Orchestra
Concert Info: http://otherminds.org/shtml/om22-info.shtml
Tickets available here: http://om22concertone.brownpapertickets.com/
Mills College – Saturday April 15, 8pm, Littlefield Concert Hall, Lou Harrison's Suite for Violin, Piano and Small Orchestra, https://musicnow.mills.edu/calendar.php
Other Minds Festival – May 20, 7:30pm, Mission Dolores Basilica, playing the following by Lou Harrison: Suite for Cello and Harp (with Emil Miland), Threnody for Oliver Daniel (harp solo), La Koro Sutro (scored for mixed chorus, gamelan, organ and harp).
Then she travels to San Luis Obispo to Festival Mosaic, Saturday July 29, 8pm – playing Copland Clarinet Concerto; Chamber Concert on Sunday July 30, 3pm – playing Ravel Sonatine (chamber version for flute, viola and harp)  http://www.festivalmozaic.com/
In Memoriam:  Adele Hanson, 1930-2016.  Thank you to Kristin and William Martin for their donation to BACAHS in memory of early childhood educator and Berkeley harpist, Adele Hanson. It is the first we heard of Adele's passing and are very sorry for the loss to her family, friends and the harp community.    http://www.legacy.com/obituaries/eastbaytimes/obituary.aspx?pid=182434481
COMING EVENTS/CALENDAR—Check out the calendar at bacharp.org to get the details on upcoming events including Boris' Salon on January 14, BACAHS Annual Potluck on January 15, and much much more!  Please post your events to the BACAHS gmail calendar viewed at http://bacharp.org/calendar-2/. If you do not already have access to post and would like to do so, contact us at bacahs@gmail.com.
CLASSIFIED ADS Check out the great harps and accessories for rent and sale recently added to the Classified Ads page.  If you need to list your harp or accessories, fill out the form on the classifieds page. If you have a listing that is no longer current, please let us know at bacahs@gmail.com